Behind the Hauler: Chad Norris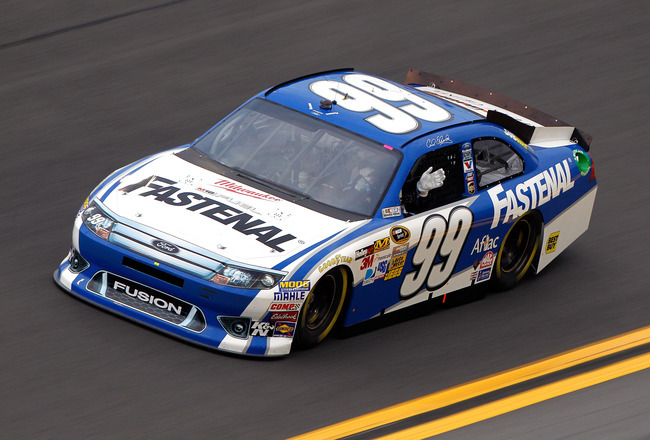 Chad Norris will try to help steer the No. 99 Ford back into the Chase (Getty Images Photo)
Chad Norris was named the new crew chief for Carl Edwards earlier this week and shared his view of what he hopes to accomplish the rest of the 2012 Sprint Cup Series season.
Norris was a guest on SIRIUS/XM NASCAR Radio's "The Morning Drive" and outlined his approach to trying to get Edwards back in championship contention:
You get to make the decisions (now) and the decision you have to make is 'How are you going to get the guy that almost won a championship last year, into the chase'? You have a task in front of you and you have to rally the troops, this is a job you have to get done, how tough is it going to be?
We definitely do have a task in front of us with the great people that we have here at Roush Fenway Racing and with Jack (Roush) and Ford and all the great sponsors we have and Robbie Reiser. We are going to get into this thing, we are just going to have to put our heads down and dig hard for these next 6 or 7 races and go out and win some races and get all the points we can.
Chad, tell us more about yourself. What can you tell us about yourself as a crew chief and were these your aspirations and would you like to be the long-term guy there for the #99 team?
Sure, I think anyone in the sport always wants to better themselves as they get through their career. I think it is a great opportunity to be working with Carl Edwards in the Cup series. He is a great talent and I look forward to working with him.
Carl Edwards, as we know, is championship material. Do you have to get your driver pumped up and do you have to convince him or does he have to convince you? You all have to be on the same page to get this job done, am I right?
Yes Sir, Carl was actually here yesterday and we had a long conversation together with Jack and Robbie and Chip and everybody involved. Carl is very motivated and I am super motivated. The team is motivated also we just have to get it all together here so we can get some wins for all of our great sponsors here."
Chad, how would you describe your style, Trevor Bayne you have a "New School and Old School Approach". How would you describe how you approach racing?
I have been through both sides. I was a car chief for Ryan Newman when he was first starting so that was more of an engineering base crew position back then which comes with the landscape today of how we race. So I have been able to be on both sides of the fence which is a really good learning curve throughout all of it.
It is two weeks before we go back to the race track. You guys have a lot to get done. How do you go from just running ok to running where the rest of those cars are at? It is not going to be that easy is it?
Our teammates have run very well this year and Carl and Bob and those guys have had some really good runs as well and they just kind of had some things happen that did not go their way. We are just going to take this week and look at everything and we are going to go back to the race track. Bob has done a great job with this team and I don't see a bunch of big changes coming. We are going to go to Indy and give it all we have for those next seven races and get in this Chase because that is what Carl deserves and expects as well as Jack."