Pocono track president to award $100,000 to a fan if Dale Earnhardt Jr. wins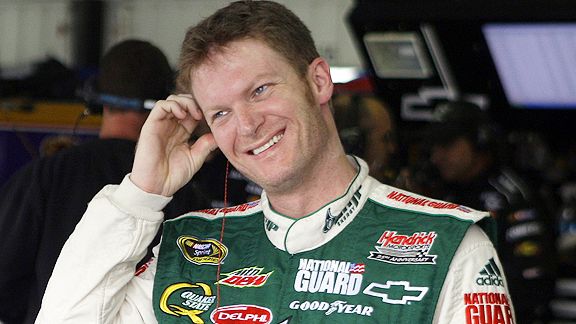 A Dale Earnhardt Jr. Pocono win could bring a big smile to a lucky fan's face (Getty Images Photo)
Pocono Raceway president Brandon Igdalsky will give $100,000 to one lucky race fan should Dale Earnhardt Jr. win next month's Pennsylvania 400.
"While watching the 2012 Presidential races, I decided it was time to make a campaign pledge of my own," said Igdalsky. "My campaign strategy is simple. Pick a driver with a legitimate shot of winning the Pennsylvania 400 and give $100,000 to a race fan if he wins! The fans visiting Pocono Raceway each year are the greatest fans in all of motorsports. Without them, nothing we do would be possible. It is time to give back to the people! We will all be watching anxiously on August 5th to see if Dale Jr. can win. If he does, I will gladly cut one of them a check!"
Fans can enter the "Pocono Presidential Pick for $100,000" by visiting any Official Pocono Raceway souvenir trailers, stands or tents, located throughout our facility, during the Pennsylvania 400 race weekend. Once there, they will be required to fill out a simple entry blank to become automatically entered.
The Pocono Raceway staff will randomly select an individual at the half-way point of the Pennsylvania 400. If the No. 88 Chevrolet, piloted by Dale Jr. takes the checkered flag, they will win $100,000! Additionally, four other winners will be chosen at random, along with the potential $100,000 winner, with each receiving two Terrace Club tickets to a 2013 NASCAR Sprint Cup Series race of their choice at Pocono Raceway, regardless of the outcome of the 2012 Pennsylvania 400.
Based on Earnhardt's past experience at the 2.5-mile triangular track, Igdalksy's bet looks relatively safe. He is winless in 25 previous Pocono starts with only five top five finishes to his credit and nine top 10s. Junior has averaged a 23.7 finish in his last ten starts and came home 16th when the series visited Pocono in June.