Poll Position: Who will win the 2012 Sprint Cup title?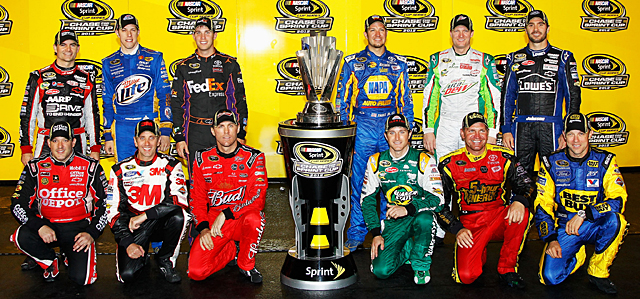 Which of these 12 drivers will lift the Cup at season's end? (Getty Images)
Now that the Chase field is set, who will win the 2012 Sprint Cup championship?
Before we begin let me reflect on the nothing less than amazing preseason predictions by yours truly who correctly pegged 10 of the 12 Chase drivers. All right, I'm finished.
Now it comes time to look into the crystal ball and pick the guy who will take the whole enchilada.
Quite frankly, before Tony Stewart limped into the Chase a year ago after telling the world he didn't belong and then proceeded to rattle off five wins in 10 races to take the crown, this picking thing seemed a lot easier.
Stewart showed it really doesn't matter what came before the playoffs, how much or little momentum a driver has at the end of the regular season or if a team is feeling confident. At the end of the day the Chase is its own animal and truly anything can happen.
But I am a believer in experience and having been through the process before. There is something to be said about being able to deal with pressure and the spotlight that grows brighter and hotter with every passing week of the playoff schedule. The driver and, maybe more importantly, the team that can deal with the stress, minimize mistakes and put together consistent finishes will prevail.
So using that logic, I'm not looking for much out of the Cinderella teams at Michael Waltrip Racing, although both Clint Bowyer and Martin Truex Jr. have been here before. However, the organization has not, so it needs one under its belt in my mind before being a legitimate title contender.
The mighty Hendrick brigade with all four drivers in the field looks to me as the team to beat and when I boil it down to one guy, it's the same driver I predicted to win the championship at the beginning of the year -- Jimmie Johnson. The 48 team is driven to get back to the top of the mountain and Johnson is as determined as ever to return to the head table in Las Vegas.
It won't' be a runaway but here's how I see the Chase dozen winding up when the final checkered flies at Homestead; 1. Jimmie Johnson, 2. Dale Earnhardt Jr., 3. Denny Hamlin, 4. Greg Biffle, 5. Brad Keselowski, 6. Matt Kenseth, 7. Jeff Gordon, 8. Kasey Kahne, 9. Clint Bowyer, 10. Tony Stewart, 11. Kevin Harvick, 12. Martin Truex Jr.
The 2012 season will be remembered for old five-time becoming Mr. Six-time.

BRIAN DE LOS SANTOS (@BrianDLS)
I wish I could say my preseason prognostication skills were on par with Pete's, but, alas, I failed miserably.
For starters, I pegged Carl Edwards to win it all. That's right, the same Edwards who has yet to win this season and missed the Chase entirely.
I thought Brad Keselowski would take a step back and miss the Chase. All he did was tie Jimmie Johnson and Tony Stewart for second most wins during the regular season.
But with the Chase field set, it's time to wipe the slate clean and, hopefully, redeem myself.
There are six drivers I could put at the top of my list and feel quite comfortable about their chances of winning the title.
Let's start at Hendrick Motorsports, where I think any of its four drivers are capable of taking the title. Of course we all know Johnson's Chase history, so it would be downright foolish to count him out. Kasey Kahne has run hot and cold, but I can see him streaking down the stretch. Dale Earnhardt Jr. has been the epitome of consistency this season. Jeff Gordon may have squeaked into the Chase, but has been hot as anyone the last month, turning in three consectuive top three finishes.
After whiffing on Keselowski during the regular season, I'm not about to make the same mistake twice. He has nine top 10s and six top fives in his past 10 races. I see no reason why he should start to tumble now.
Ultimately, though, my pick to win the title is Denny Hamlin. The 11 team is running strong and looked poised to carry three straight wins into the Chase, but was derailed by pit strategy at Richmond, where he still led a race-high 202 laps. And let's not forget his crew chief is Darian Grubb, the same guy who helped Tony Stewart win five of the final 10 races last year to win the title. (I still don't understand why that relationship broke up, but I digress).
I like what Michael Waltrip Racing has done putting Clint Bowyer and Martin Truex Jr. into the Chase, but it's an organization that's still improving and growing. I think they're a year away from being able to pull off a title. Among Chase drivers, only Kevin Harvick had fewer top fives than either Bowyer or Truex, who each had six.
What about Roush Fenway? Greg Biffle finished first in the final regular season standings, Matt Kenseth third, yet for some reason I'm not seeing a championship in their future this year. If I'm offbase with my picks, this is probably the one to quibble with.
Harvick has shown signs of life after his crew chief change, but I don't see the 29 team flipping a switch ala what Tony Stewart pulled off least season and snagging a title. And speaking of Stewart, I'd be floored if he's able to repeat that feat of a season ago.
My final rundown: 1. Denny Hamlin, 2. Jimmie Johnson, 3. Brad Keselowski, 4. Dale Earnhardt Jr., 5. Greg Biffle, 6. Jeff Gordon, 7. Clint Bowyer, 8. Matt Kenseth, 9. Kasey Kahne, 10. Kevin Harvick, 11. Martin Truex Jr., 12. Tony Stewart.