Jermaine O'Neal to have season-ending wrist surgery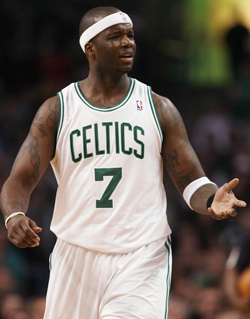 Jermaine O'Neal will not return to the Celtics this season and may retire.
(Getty Images)
Jermaine O'Neal hasn't been able to get on the floor this year. After deciding not to retire and come back for one more season, whether for glory or money, O'Neal was talked about as a possible buy-out candidate, with rumors he might surface in Miami. It appears that won't be the case.
The Boston Globe reports that the Celtics anounced Monday that O'Neal will undergo surgery on his wrist and is done for the season.
Celtics coach Doc Rivers said last Thursday he did not expect Jermaine O'Neal to return to the team and he was right. O'Neal decided today to have season-ending surgery on his left wrist that will mean the end of his time as a Celtic.

O'Neal is finishing the second-year of a two-year, $12 million deal and considered getting a cortisone shot to help with the discomfort. But the team announced that doctors discovered a degenerative condition that was worsened when he landed on his wrist taking a charge from Dallas' Dominique Jones on Feb. 20.
viaO'Neal to have season-ending wrist surgery -Celtics blog - Boston Globe basketball news.

O'Neal already said during the lockout that he was done after this season, so you have to wonder if he'll try and make one more run or decide to call it a career. It would be his 17th season, which is kind of a long time in terms of the NBA. It's a shame if this is how O'Neal will be forced to go out.