Report: Spurs are favorites to sign Boris Diaw after Bobcats buyout?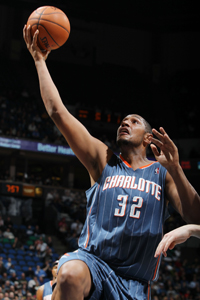 Boris Diaw could be headed to San Antonio.
(Getty Images)
Free agent big man Boris Diaw could be headed for a French Connection in San Antonio.
Diaw, 29, was
bought out by the Charlotte Bobcats
this week and could reportedly land with the Spurs,
according to Yahoo Sports
.
The San Antonio Spurs have emerged as frontrunners to sign forward Boris Diaw should he clear waivers, league sources told Yahoo! Sports.

Diaw agreed to a buyout with the Charlotte Bobcats on Wednesday and needs to go unclaimed by NBA teams to become a free agent.
Diaw was completely pointless on the Bobcats, who are in a full-scale rebuild. They simply had no use for a veteran, multi-talented big man with questions about his conditioning and a big-dollar contract. If he played well, he would potentially screw up the tanking. If he played poorly, he was taking minutes away from younger guys that might actually have a future with the team. It was a lose-lose proposition.
The Spurs, though, are No. 2 overall in the Western Conference with a record of 29-14, good for a four game lead in the Southwest Division. It goes without saying that they could use an extra big body down the playoff stretch, and the roster currently stands at 13 players.
If he lands in San Antonio, Diaw would join countryman Tony Parker and help fill out a rotation that includes Tim Duncan, DeJuan Blair, Matt Bonner and Tiago Splitter.
Diaw averaged 7.4 points, 5.3 rebounds and 4.3 assists in 27.5 minutes in 37 appearances for the Bobcats this season. He boasts careeer averages of 9.6 points, 4.9 rebounds and 4.0 assists during a nine year NBA career that includes stops with the Atlanta Hawks, Phoenix Suns and Bobcats.