Quarterly Report Roundtable: Buy or sell?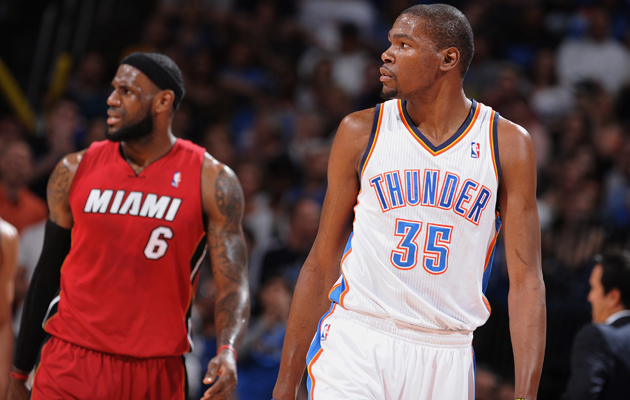 Did Kevin Durant catch LeBron James in the MVP discussion?
(Getty Images)
CBSSports.com's Eye On Basketball staff got together to toss around a number of burning questions at the third quarter mark of the 2012-2013 season. Here's the roundtable discussion.

Buy or Sell: The Heat are the best team in basketball.
Ben Golliver: Buy. The Heat are the best team in basketball but they're not playing the best team basketball right now. That's the right way to put it. Miami has managed the lockout season well, taking care of their business early and showing all sorts of new-found chemistry on both ends. That six of their 13 losses came in March is no great shame. This team is ready for the postseason and will have plenty of tune-up time before their Death Match with the Chicago Bulls.
Matt Moore: Buy. I'm going to take a beating on this investement right now because the Heat aren't playing like it right now, not anywhere close. But the Heat have the most talent, the most upside, and for all their Finals failures, a team loaded with guys that have gone deep in the playoffs. They'll get there.
Royce Young: Sell. It appears to be a three horse race right now but with the Spurs running close enough to still be considered. The Heat have looked dominant at times and average at others. They're very good. But the best team? That's yet to be determined. I mean, they got whipped by the Thunder and lost to the Bulls without Derrick Rose. Not exactly something that screams best team.
Buy or Sell: The Bobcats have earned enough bad luck to get the No.1 pick.
Matt Moore: Buy. The team has taken players who were legitimately highly thought of by scouts (Sean May, Emeka Okafor, even Adam Morrison) and still whiffed on every one of them. They've finally committed to a rebuild. It's time Charlotte catches a break.
Royce Young: Sell. If we're talking about luck choosing the top pick, it would have to go to the Blazers. The Bobcats have been terrible and had some rough breaks, but they aren't necessarily more deserving than some of the other horrible teams.
Ben Golliver: Sell. I didn't realize that executing a perfectly constructed tanking plan constituted as "bad luck". It was clear where this was headed as soon as Rich Cho took the job and it's right on track. If Anthony Davis does join the fold the organization will be hailed as immediate geniuses.
Buy or Sell: Kevin Durant is the 3rd quarter MVP and neck and neck with LeBron
Royce Young: Buy. Not only did Durant outplay LeBron head-to-head, but in terms of everyone's favorite MVP stat, Durant is obliterating LeBron in terms of clutch numbers. He leads the league in clutch scoring, points in the last 10 seconds of a one possession game and on and on. Basically, look up a clutch stat and Durant's on top.
Ben Golliver: Sell. I'll sell on this because a quarter of a 66-game season is barely worth carving up for an MVP vote. Don't we just call that Player of the Week? To the greater point, Durant has definitely turned this into a two-horse race. His credentials are impeccable: excellent numbers, a litany of big plays, personal growth, team success, great story. Everything is there for voters feeling the urge to snub LeBron James. But James still deserves it.
Matt Moore: Buy. I'm even tempted to give him the edge. He's raised his defense to the level you want to see and he's scoring not just in volume, but he's honestly unstoppable when he gets going. Durant has a great shot at the award.
Buy or Sell: The Spurs have a legitimate shot at winning the title this year.
Ben Golliver: Sell: Fool me once, shame on you. Fool me like 456 times in a row, shame on me.
Matt Moore: Buy. It all depends on matchups. But if the Spurs can worm their way to the Western Conference Finals against OKC, they have matchup advantages galore. If they make the Finals, can you see anyone stopping Manu Ginobili?
Royce Young: Buy. Tim Duncan is looking fit, Tony Parker is playing the best he ever has and they've been winning without Manu Ginobili. They're deep and can seemingly plug in any piece and get production. They took the season series over Oklahoma City 2-1 and did it with two convincing wins. They're to be taken very seriously.
Buy or Sell: The Sixers will make the second round.
Matt Moore: Sell. This team is 1-10 in close games and they're looking at a series with either Atlanta, Boston, Indiana, or Orlando. Those are all teams with playoff experience who won't be intimidated by anything Philly brings to the table. Could be a big letdown for the Sixers this year.
Royce Young: Buy. Unless the Sixers fall apart and drop to the seven or eight seed and have to play the Bulls or Heat in the opening round, Philly is every bit as good as any team they'd play. They matchup well with most teams, are insanely deep and defend.
Ben Golliver: The late-game issue is going to loom huge, for sure, but I think it's too early to call this definitively until we get a better idea of their match-up. I would actually
Buy or Sell: The Nets are screwed
Royce Young: Buy. Whiffing on Dwight Howard was a death sentence. Maybe they can turn that extra cap room into a decent veteran play that'll convince Deron Williams to stay, but with their past history paying free agents and the obvious disappointment in missing on Howard, it's unlikely Williams stays. All their eggs were in the Howard basket and it's probably the best decision to prepare to blow it all up upon moving to Brooklyn.
Ben Golliver: Buy. Is today a day that ends in "y"? Of course the Nets are screwed. But if they wind up winning a top-3 pick in the lottery, then it will be the Portland Trail Blazers who are really screwed, as they will be forced to wait on their compensation in the Gerald Wallace trade. That could make for a long, long 2012-2013 season in the Rose City.
Matt Moore: Buy. Let's say they tank badly enough to keep their lottery pick. Deron Williams will have suffered a horrendous end to the year for the second season in a row and be asked to basically come back because Brooklyn is in a big city, when he'll have his choice of big cities. If they manage to win some games, they won't have any way to really upgrade the team because they won't have their pick and they could still lose Williams.
Buy or Sell: If you had to take the Thunder or the field in the West to make the Finals, you'd take the Thunder.
Ben Golliver: Buy. No question. The Thunder are rolling through their schedule with remarkable ease and everything about their demeanor these days says legit title contender. There isn't a guard in the conference that can neutralize Russell Westbrook, save Chris Paul, and the Clippers can't match OKC's size and length, plus they have no answer for Kevin Durant. I expect OKC's combination of top-level talent and excellent depth to carry them fairly easily to the Finals, barring injury. The Lakers are the only real threat.
Matt Moore: Sell. The West is too wide open, the matchups too problematic, the Thunder's defense too problematic over the course of the season. The Thunder are the West's best team but there's no reason to believe the West can't be won by any of the wandering teams in the post-apocalyptic landscape. The Lakers with their size, the Spurs with their matchups, the Grizzlies with their grind, the Clippers with their... well, no, not the Clippers. But take the field, just don't be surprised if the Thunder wind up there anyway.
Royce Young: Buy. The Thunder are the West's best team. The Spurs are dangerous, the Lakers are improved with Ramon Sessions, the Grizzlies are scary when healthy and the Mavericks are proven champs. But OKC matches up with basically anyone, has two top 10 guys in their starting five and are built to win. Your best bet in the West is to ride OKC.
Buy or Sell: Learning to play without Derrick Rose was good for the Bulls.
Matt Moore: Buy. The Bulls needed to figure out how to score without needing Rose to do everything. They've done that. Their ball movement is crisper, John Lucas III has stepped up, Carlos Boozer has found his mid-range, and Joakim Noah is everywhere. They know they can play with Rose. Being without him has helped them figure things out they needed to solve.
Royce Young: Sell. I see the side of having role players step up and prove themselves, but in the end, how are the Bulls going to play in the postseason? With Rose, right? Learning to play with him and excelling there makes more sense than boosting the confidence of Boozer, Noah, Deng and whoever else. Rose is going to be the closer, going to have the ball and going to be making the plays in the postseason. The more reps with him, the better the team will be prepared for the big moments.
Ben Golliver: Buy. I don't think it's that big of a deal, really, because Rose is the franchise and his play will determine whether or not Chicago can exact revenge against Miami. There's a minor confidence boost in reeling off wins without your All-Star. You hope for the carryover, but you don't really rely on it.