The Miami Heat embarrass themselves against the Celtics, as they often do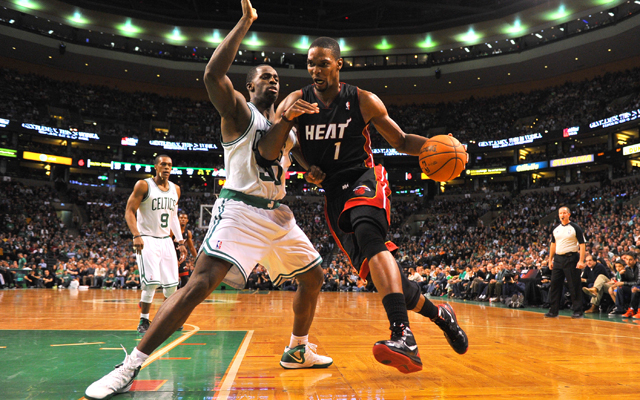 Chris Bosh's month-long struggles continued Sunday against Boston.
(Getty Images)
If you're the baddest team in the land, you don't let a rival, who has tortured you individually throughout your careers, house you. I don't care if it's preseason, regular season, postseason, or hunting season, you don't allow that to happen to you. You carry more pride with you than that. It's not even the scoring margin. Forget that. It's the effort.
The Heat simply could not have been bothered to give effort Sunday against the Celtics,
a 92-71 loss in Boston
.
(Side note: We'll get to the Celtics. Because that team, when they most needed to make a statement to carry them into a tough stretch headed towards the playoffs, showed up in a big way and slammed the door on Miami's head. Don't take this as anyting to overlook the Celtics' performance. They were magnficent Sunday in every aspect of the game, particularly Rajon Rondo.)
Miami has any number of excuses, and let's be clear, they are not weak ones. Dwyane Wade has been dealt with
the wounding of his nephew in a neighborhood shooting
, and he was still engaged on Sunday. He scored 15 points on 17 shots, but you could tell that he was invested, as he kep the Heat in it through the first half. Chris Bosh has dealt with the death of his grandmother. LeBron James took a shot to his head and elbow recently and has had a carry over from that (yes, yes, we know). So the excuses are there, and most are very valid.
But the effort en masse? Not enough. Not nearly.
And it's not so much that the Heat gave such a poor effort against a rival. It's that it's not unexpected.
Here's the thing about that opening statement about how the baddest teams in the land don't lose those games. The do. See: Jordan's 96 Bulls
losing to New York by 32 in March
. Shaq and Kobe's Lakers had similar losses. It happens.
But it happens so much with the Heat, it's predictable. The Heat are either going to look like a Flying Death Machine, or look like a team that would appear on a Tuscon Arizona Rehab Clinic intramural team.
If the Heat don't win the title this season because they give a similar effort to what we've seen in consecutive Sundays against Oklahoma City and Boston, two teams they have every reason to show up for, even in the regular season, just as we saw against Dallas, is this the most disappointing team of all time?
You can hate the Heat for whatever you want, they're still one of the best teams in the league. You can dislike them for their arrogance, a trait shared by every great team, ever, for their approach, for spurining your team, for whatever. But the biggest reason to be frustrated with the Heat is that they give these kinds of lapses, that they allow themselves to get run over by teams honestly, again, with all respect to Boston, not in their league, by the very teams they have the most motivation to defeat.
Does this mean the Heat can't win the title? Abslutely not. But if the objective is to work for five months to put yourself in the best possible position to win a title, you need consistency and focus. So far the Heat have shown they can play well, they can even play with focus.
But consistency? They're miles away, never further than on Sunday.