Knicks coach Mike Woodson to J.R. Smith: Stop sagging your shorts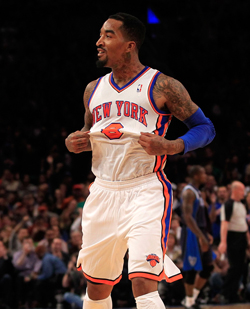 J.R. Smith lets his shorts hang too low, according to his coach.
(Getty Images)
It's high time J.R. Smith cleans up his act.
At least according to New York Knicks interim coach Mike Woodson, who has had a front row seat for Smith's recent antics, which include posting a photo of a nearly naked woman to his Twitter account and getting whistled for a flagrant foul during a game against the Indiana Pacers earlier this week.
Smith has always been a brash dance-to-the-beat-of-his-own-drum character, but the
New York Post
reports
that Woodson would like to see a little more comformity. And that starts with his style of dress.
Woodson had a long talk with Smith in the wake of Tuesday's ejection with 10.7 seconds left in Indiana for throwing down Leandro Barbosa.

"I told him I'm going to continue to coach him as long as I'm coaching the team," Woodson said at the Thursday morning shootaround at Amway Center. "I told him I'm not going to let him off the hook. I want his shorts pulled up. I want him to look presentable. Be a professional. That's what it's all about.''
That marks the second time this week that Woodson has questioned Smith's professionalism. After Smith was hit with a flagrant foul 2 -- one that was later downgraded -- for tossing Leandro Barbosa to the ground, Woodson
called it an "unprofessional" act
. Smith eventually avoided both a fine and a suspension for the play.
I guess Woodson's thinking is basically Rudy Giuliani's "Broken Windows theory" of criminology applied to professional basketball. If Smith cleans up his look, the thinking goes, perhaps his behavior will follow suit.
Will it work? Who knows. Smith is no rookie, he clearly enjoys being himself, he's playing for an interim coach without the credibility of the full-time gig, the Knicks are going nowhere in the playoffs and he's set to be a free agent this summer. That's a pretty tough combination of factors working against Woodson. But none of this should come as a surprise. Smith was a known commodity when the Knicks acquired him; a certain amount of baggage was anticipated from the beginning of the relationship.
Smith, 26, joined the Knicks
in February
after playing in the Chinese Basketball Association during the lockout. He is averaging 10.4 points, 3.8 rebounds, 1.5 assists and 1.2 steals in 24.7 minutes per game off New York's bench this season.
RELATED: Smith was fined $25,000 fine for posting "inappropriate pictures" on his Twitter account.