Blake Griffin blows off DeMarcus Cousins over 'actor' comment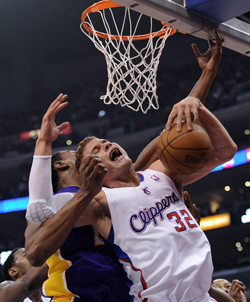 Blake Griffin is drawing heat for his "acting" on the court.
(Getty Images)
We've got ourselves a little late-season Western Conference war of words. (Well, at least a minor league war of words. The big-time back and forth, of course, always belongs to Andrew Bynum and the demons in his head that command him.)
On Friday
, Sacramento Kings center DeMarcus Cousins called Blake Griffin an "actor" and said that the NBA referees "baby" the Los Angeles Clippers All-Star forward. The NBA quickly hit Cousins with
a $25,000 fine for his statements
.
On Saturday,
ESPNLA.com reported
that Griffin popped a few shots back at Cousins when asked if he had caught wind of the comments.
"I first heard about it from my acting coach, he sent me an email," Griffin joked after the game, responding to the comments for the first time. "He was obviously thrilled. It was a compliment. I guess he's seen some commercials and stuff and I appreciate it."

"I mean this in the nicest possible way; you have to consider the source," Griffin said. "If this is somebody that has been in the league a long time and really knows the ins and outs of the game and has a great reputation for carrying himself the right way then it's something I would look at and see how I rubbed this guy the wrong way. But someone like that, you just keep going."
Cousins, 21, is an extremely talented young big man, but he does have a well-established reputation as a hot head. In January, it was reported that he demanded a trade. Shortly thereafter, the Kings fired coach Paul Westphal. At various points during his time in Sacramento, he's been: ejected for shoving, suspended by the Kings, benched for making a choking sign and fined by the team.

So Griffin's point is valid: Cousins' credibility is always an issue. But that point doesn't win this debate. Regardless of whether Cousins was Mother Theresa or Kim Jong-il, his criticisms of Griffin specific and based on plays supported by video evidence. It's possible to be both a headcase and an accurate assessor of an opponent's style of play. It's possible to be both a hot head and someone who is capable of determining when a star player too regularly crosses a line.

It makes perfect sense for Griffin to right off Cousins, given their respective standings when it comes to global fame. But certainly Cousins isn't alone in the NBA in his assessment of Griffin's behavior. He's just been the loudest about it.

It's difficult to imagine that Cousins will be the last to voice such concerns. Griffin better start preparing better counter-arguments.