Dennis Rodman denies problems with money and alcohol: 'I'm not broke'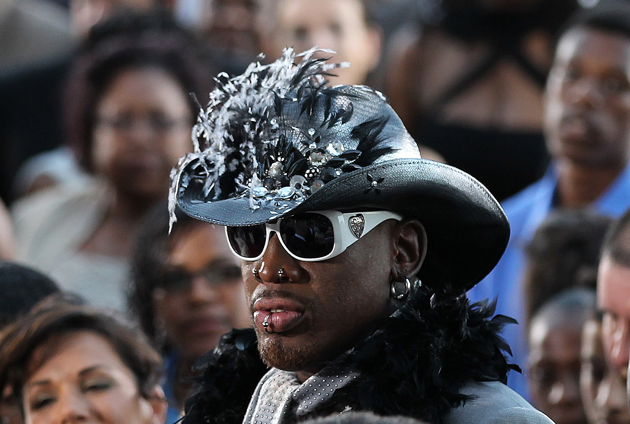 Dennis Rodman denies he has problems with money or alcohol.
(Getty Images)
Court documents painted a troubling picture of Basketball Hall of Famer Dennis Rodman back in March but The Worm says people have got him all wrong.
According to court documents released in March
, Rodman faced the possibility of jail time because he owed his ex-wife more than $800,000 in back child support. His lawyer argued in the documents that Rodman was "broke" and "extremely sick" and was having trouble making ends meet.
Rodman took to national television to strongly dispute his own lawyer's statements.
Yardbarker.com transcribed the quotes
from a "Today Show" interview.
"I'm not a deadbeat dad," Rodman said. "Yeah, I pay child support. I'm not one of the guys that made Michael Jordan money or Scottie Pippen money. I made a decent living in the NBA, but broke? I'm not broke," he says.

Asked about having a drinking problem, Rodman disputed that, too.

"I'm not sick, man. People have had those allegations about me since 1995. 'Dennis parties a lot, Dennis does this.' I'm going to do what I do. I've proved people wrong from day one, I'm still proving people wrong that the fact that I'm still loving it."
There's two sides to every story. When it comes to Rodman, it's probably more like 200 sides. One thing we do know: the truth is more likely to come out in court rather than on a morning talk show.
Rodman, one of the NBA's most eccentric personalities, was inducted into the Naismith Basketball Hall of Fame
last August
and he gave a memorable, emotional speech in which he admitted that he wasn't a perfect father. He was accompanied at the ceremony by members of his family and showed up
wearing a feather boa
.
Rodman retired from the NBA after the 1999-2000 season following a 14-year career that included stops with the Detroit Pistons, San Antonio Spurs and Chicago Bulls. He posted career averages of 7.3 points and 13.1 rebounds per game, leading the NBA in rebounding for seven straight seasons. He was named to two All-Star teams, twice won NBA Defensive Player of the Year. He was a 5-time NBA champion.
Hat tip: HoopsHype.com