Lakers G Kobe Bryant (shin) to sit Wednesday vs. Spurs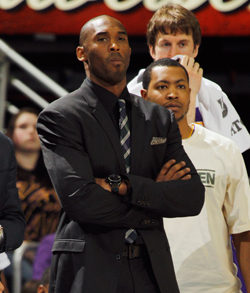 Kobe Bryant will sit against the Spurs.
(Getty Images)
The Black Mamba will be in street clothes again.
Los Angeles Lakers All-Star guard Kobe Bryant will not play during a Wednesday night game against the San Antonio Spurs due to a sore left shin,
the Los Angeles Times reports
. Lakers coach Mike Brown made the announcement following the team's Tuesday morning's practice.
ESPNLA.com reported
that Lakers trainer Gary Vitti said Bryant's shin is "improving" but that Bryant did not practice with the team on Tuesday.
Bryant sat out the Lakers' Saturday night loss to the Phoenix Suns and a Monday night win over the New Orleans Hornets because of the injury. Those were the only games Bryant has missed all season.
The Spurs are currently the No. 2 seed in the Western Conference, 5 games up on the No. 3 seed Lakers. The Lakers are up 1.5 games on the L.A. Clippers in the Pacific Division chase with eight games to play.
Bryant, 33, is averaging an NBA-best 28.1 points plus 5.4 rebounds and 4.6 assists per game this season.