Road to the Finals: Chicago Bulls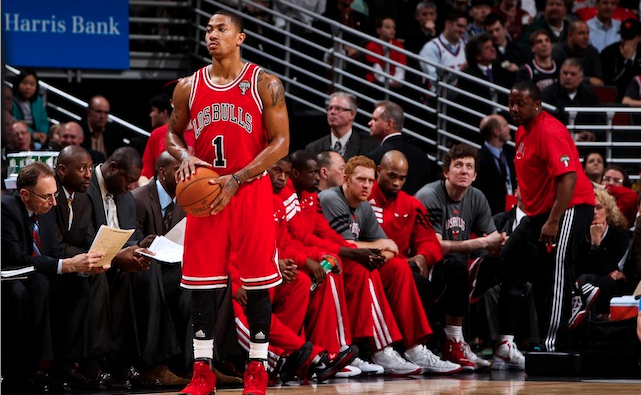 This may shock you, but the Bulls future fate rests in Derrick Rose's hands. And health. (Getty

Images)

In an ongoing series, CBSSports.com Eye On Basketball will take a look at the leading championship contenders as they head into the NBA playoffs. Next up: the Chicago Bulls.
By all appearances, the Chicago Bulls are right where they're supposed to be. Atop the Eastern Conference, headed for homecourt advantage and prepared for a monster clash with the Miami Heat in the East finals.
Except something just doesn't feel right. Oh, that's it -- Derrick Rose.
It's something that's sort of been swept under the rug this season because the Bulls are winning. Rose has barely been healthy missing 23 games with a list of different injuries (the Bulls are 16-7 without him). Immediately after returning from a groin pull, he rolls an ankle. He should be good to go for the postseason, but the Bulls need him sharp and ready. After spending most of the last two months in a suit, he might not be.
The Bulls get by though because of a machine-like defensive system that keeps them in any game while relying on someone to step up. Some nights it's been John Lucas III. Some nights Luol Deng. Maybe Carlos Boozer or Kyle Korver. The burden that rests firmly on Rose's shoulders has been passed around this season, which in the long run, could be a good thing for the Bulls. Because we all know what's coming. If the Heat and Bulls collide in the Eastern Conference finals, you can be sure LeBron James will be finding his way to guarding Rose again.
It's part of the reason Richard Hamilton was added. He gives the Bulls a shooter, a guy that can score his own points only needing a good screen and an on-time pass. Problem with that though has been Hamilton's health. He's only played in 20 games this season.
Road to the Finals series
Related links
More NBA coverage
But regardless of it all, the Bulls are right where they need to be. They're atop the East, likely headed for the one-seed and on a collision course with the Heat for a chance to play in the NBA Finals. They own the top point differential in basketball beating teams by an averaging margin of 7.9 points. They're third in defensive efficiency giving up only 99.3 points per 100 possessions. And incredibly, they've been an outstanding offensive team too ranking sixth in the league in offensive efficiency at 108.1. The Bulls are an outstanding team. Yet, they don't feel like the dominant force we thought they'd be. Why? Because of the uncertainty around Rose.
The Bulls know who they are. They're a defensive-minded group that relies an awful lot on Rose to make something happen for them offensively. They have a deep bench, two defensive towers in Taj Gibson and Omer Asik who anchor an incredible second unit and shooters like Kyle Korver and Hamilton to space the floor. For example: The Bulls' lineup of Gibson, Asik, Deng, Korver and Lucas is outscoring teams by 33.4 points per 100 possessions. They have a defensive rating of 77.9 in 155 minutes played. That's
insane
. The bench provides Tom Thibodeau and incredible luxury. He can take over games during the second and third quarters and then rely on Rose's playmaking and some hyperclutch defense to taken them home.
It's a structure that's proven, except for that series against the Heat last year. Issues were exposed by the Heat as Chicago's crunch time offense went kaput and defense couldn't bail it out. The problem with Rose being so spotty this season is while yes, some of the other players have stepped up and played valuable minutes and roles, that's not the team the Bulls will be in the postseason. It'll be back to the Rose and Others show, and the Bulls haven't had much practice with that lately.
Here's an obvious, not-at-all-shocking statement: While the Bulls have played well without him, they're much, much better with him. The team ball stuff is nice, but in terms of what makes Chicago more dangerous, Rose Ball is what wins. With him this season, the Bulls are 28-7 averaging 98.4 points per game. Without, 16-7 averaging 94.4. Extend that out and the Bulls are nearly six points better per 100 possessions with Rose on the floor than with him off. You can beat some teams relying on five guys playing together, even good teams like the Heat. But not in a seven-game series.
It seems to be a foregone conclusion the Bulls and Heat are destined to meet in the Eastern finals, but there could be a roadblock or two. The Knicks could present a difficult series in the opening round, but in the end, Chicago should dispatch them. As it stands now though, the Bulls would draw the Celtics in Round 2 and with the way Boston has been playing, that's a scary team. If the Bulls want their cakewalk to the Eastern finals, they probably should be pulling for the Hawks or Magic to make a nice little push to finish this season.
With the Bulls though, it almost feels like they've flown a tad under-the-radar for the season. Most have penciled the Heat in as the East's representative in the Finals despite Chicago leading pretty much end to end this season in the conference. For being a historic franchise in one of the biggest NBA markets with the reigning MVP, it kind of seems like the Bulls haven't gotten their due. To be honest, it probably has something to do with their curb appeal. They win a lot of games ugly, with little flash outside of an acrobatic Rose finish. Plus, their failures in the crunch time last season and again some this season have raised legitimate doubts. For instance: Rose is shooting only 57.9 percent in the clutch from the free throw line, sixth worst in the NBA. That's something hard to ignore, especially when you know those are coming down the line.
Still, this is one of your two prohibitive favorites in the East. But they are getting there without Rose. They not only need him playing well, but playing better. They need Derrick Rose to have evolved and adapted from the player last season that placed the blame of Chicago's failures on his back. They need Rose to rise to another level, to take his team to a higher place. But he can't do it unless he's completely healthy, fresh and fitting in. It's simple: The Bulls' future fate rests in his hands. And health.