Derrick Rose tops the NBA's most popular jerseys list for 2012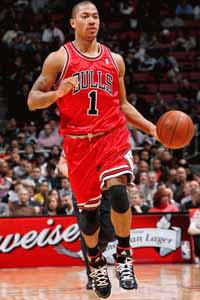 Derrick Rose is a popular young man.
(Getty Images)
The NBA released the list of the most popular jerseys in sales for 2012 Thursday and the MVP
Derrick Rose
is back on top. The lis, via the NBA:
1. Derrick Rose, Chicago Bulls
2. Jeremy Lin, New York Knicks*
3. Kobe Bryant, Los Angeles Lakers
4. LeBron James, Miami Heat
5. Carmelo Anthony, New York Knicks
6. Dwyane Wade, Miami Heat
7. Dirk Nowitzki, Dallas Mavericks
8. Kevin Durant, Oklahoma City Thunder
9. Blake Griffin, Los Angeles Clippers
10. Rajon Rondo, Boston Celtics
11. Amar'e Stoudemire, New York Knicks
12. Ray Allen, Boston Celtics
13. Paul Pierce, Boston Celtics
When LeBron James won the top spot last year, a lot of folks speculated that it was due to James' relocation to South Beach along with his talents necessitating a new jersey. After all, you can't be wandering around with a James Cavs jersey anymore. That's just twisting the knife. Rose's popularity shows not only the impact of the MVP but what winning in a big market can do for you. Rose's off-court charisma is about that of a carrot, but his game is what speaks and it talks like a cash register, apparently.
Jeremy Lin, No.2. Wow. If you had told me a year ago that you'd bet me all the money in your pockets against all the money in my pockets that Jeremy Lin would have a more popular jersey this season than Kobe Bryant... well, my friend, you would have yourself a stick of gum and some lint. Lin wasn't just an on-court success, he brough real, tangible financial benefits to the league and the Knicks.
Kobe Bryant leapfrogging James isn't surprising given James' Finals flop and the fact that Bryant will be popular until he's dead, since he'll play until then. The World Champion Mavericks didn't have a top-five guy which says a lot about both people and their team, and Paul Pierce being behind Ray Allen is just bizarre, though obviously Pierce has been in Boston longer.
A strange list for a strange season.