Celtics 90 Hawks 84: That's who the Celtics are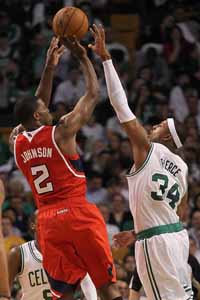 The shorthanded
Hawks
lost to the
Celtics
by inches.
(Getty Images)
It's weird how traditional archetypes about teams seem to play themselves into reality.
In Game 2, the Celtics were without
Rajon Rondo
and
Ray Allen
. But they played with heart, played gritty, gave the effort, and won the game.
In Game 3, the Hawks were without
Josh Smith
(and
Al Horford
and
Zaza Pachulia
, who they've missed the entire series, but don't mess with the narrative). But they played with heart, played gritty, gave phenomenal effort...
and lost, 90-84
.
And that's kind of where both franchises are at.
Rajon Rondo had a bad game and finished with a triple-double, which kind of tells you where he's at.
Joe Johnson
had a great game but missed both his chances to win the game by taking fadeaway pull-up jumpers in isolation, which kind of tells you where he's at. The Celtics should have annihilated a team that had to play
Erick Dampier
significant minutes, had to get a huge performance by
Tracy McGrady
, and instead they struggled, needing overtime and some good breaks as well as sustained quality play by
Kevin Garnett
to win at home, which kind of tells you where they are at.
And where the Celtics are is up 2-1 with another game at home and a chance to put the boot to the throat of a Hawks team that have played right there with the Celtics throughout the series. One team knows how to win, the other turns to bad offensive sets by questionable offensive threats too often.
They are who they are.
The Hawks got such a phenomenal effort from McGrady, who played over 40 minutes at age 32 (and an ancient 32 after all his injuries), that it might be a backbreaker game for them. Joe Johnson had a lot of heroic shots but couldn't get the ones he most needed to fall.
Jeff Teague
continued his strong postseason play. And Dampier even managed to knock down a few dunks. The Hawks, considering their talent on the floor played well. It just wasn't enough.
It brings an interesting topic of depth up. The Hawks are arguably a deeper team, but that doesn't matter if you suffer injuries at key positions. Losing their three best players down low changed everything about them, at the worst time.
So the Celtics get a chance to put the Hawks in a hole they can't climb out of, and you have to wonder about the effect on Atlanta's mindset. They had a game they should have won slip by in Game 2, and a game they could have won despite adversity in Game 3 get away. At some point it's horseshoes and hand grenades, with one team made of a team that can make the winning plays and one that can't.