Jazz-Spurs Game 4: Spurs show they're at that next level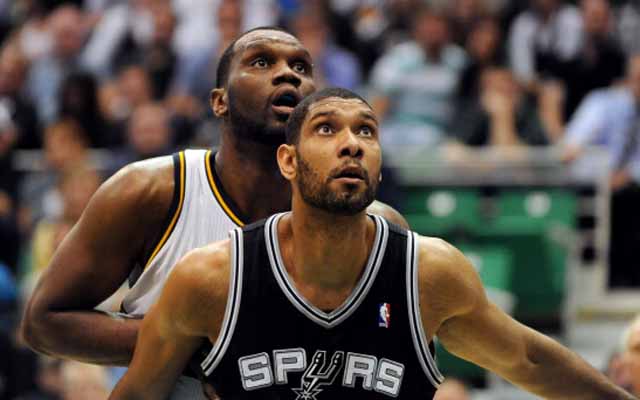 The Spurs were in front the entire series.
(Getty Images)
The
Jazz
never really had a shot in this series. And while we'll never know, I'm betting that neither Phoenix nor Houston would have, either. Because the
Spurs
are not the San Antonio team that lost to the Grizzlies in last year's opening round in a meek and timid way (nor are the Grizzlies, by the looks of it). They are hungry, they are fierce, and they are cold-blooded killers.
The Spurs finished off the Jazz the same way they finished them off in the first three games.
Tony Parker
set the tone, the Spurs spread the floor and got the Jazz woefully out of position. But in general, it was a grind-it-out game. The Spurs' defense has been mediocre-to-okay for most of the season but against Utah it was superb. They shut down the Jazz shooters at every level.
The Jazz made a late run behind
DeMarre Carroll
's hustle, but it wasn't enough when the Spurs created a late steal and turned it into a dagger
Manu Ginobili
three. Ginobili found his three-point stroke finally, hitting two late threes after going oh-fer in the series. Just in time for next round.
So the Jazz head to an offseason to try and establish what direction to take their team and if
Al Jefferson
and
Paul Millsap
, who may not improve much as a tandem from where they're at now, are the core of the future or need to be traded in at a high value.
For San Antonio, it's rest. The Spurs aren't especially in need of it considering how much they were able to rest starters in this series, but with back-to-backs starting in the semifinals, the Spurs won't have to leave home for a solid week and a half with the next round starting in Texas.
Maybe the best thing for the Spurs is that they have proven their supporting players can perform in a playoff series.
Danny Green
,
Matt Bonner
and
Tiago Splitter
all gave big performances in this series and that's a good start for this team. It gets harder from here, but once agian, the Spurs look like the scariest team in the league, as quietly as possible.
The style has changed, the methodology is the same. Win, quietly, controlled and efficiently.