Stan Van Gundy says he wants to return to the Magic next season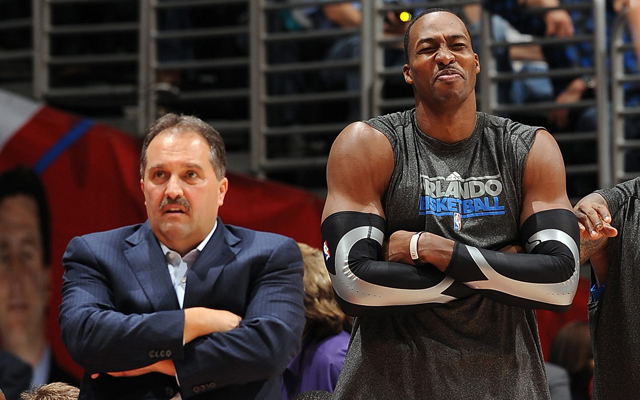 For some reason, Stan Van Gundy wants to return to the messed up situation in Orlando.
(Getty Images)
Through the Dwightmare in Orlando, Stan Van Gundy has stood resolute, unshaken and uncompromised. He wasn't afraid to drop a bombshell that he was told
Dwight Howard
requested he be fired and didn't hold any reservations in coaching the team. He did his job, didn't apologize for anything and always remained professional.
And despite the crazy, ridiculous and often stupid situation in Orlando, he said he'd like to return to the bench next season.
"Yeah, I want to come back, but that's not up to me," Van Gundy told
Bright House Sports Network
. "As far as the speculation, I'd say the same thing I've been saying all year -- who gives a damn. They'll make a decision when they make a decision. I'm not going to worry about it, I'll tell you that. As long as I'm coaching I'll continue to do my work and I'll get ready for next year. If they want to make a change, make a change. That's up to them."
Howard, though sort of publicly denying he asked for Van Gundy be fired, still reportedly wants his coach out. Howard has waived his early termination option with the
Magic
and is under contract in Orlando through next season. There will be more Dwight trade drama through the season but if the Magic want to have any hope of keeping their big man, they're going to have to cater to him. And that might begin with ditching Van Gundy.
Players almost always win in these scenarios and it's hard to imagine Magic management siding with Van Gundy. Especially since he's probably still in some hot water for going public with Howard's request for him to be fired.
One Orlando writers tweeted
, "My gut tells me that Magic coach Stan Van Gundy will be fired by next week."
Regardless of it all, Van Gundy quietly did as tremendous job with the Magic this season, even after Howard was injured for the postseason. No one expected them to take a game from Indiana, but they did and had a chance to steal one or two more and make things very interesting. You can't question Van Gundy's coaching chops. It's just his style and personality than often grates on players, which is did evidently with Howard.
Enough things have been dragged out in Orlando, so you'd have to think a decision would be made quickly on Van Gundy's future. At least for everyone's sake, we can hope so.