Improved LeBron James earns third MVP trophy as hate abates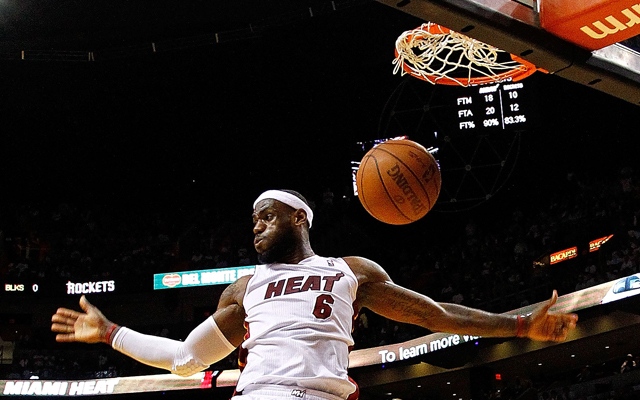 James earns his third MVP nod in four years.
(Getty Images)
To the surprise of no one, Miami
Heat
All-Star forward
LeBron James
, the consensus favorite for the 2012 NBA MVP award, will be
presented the award on Sunday
.
James, 27, averaged 27.1 points, 7.9 rebounds, 6.2 assists and 1.9 steals while shooting 53.1 percent from the field in 37.5 minutes per game. The Heat finished 46-20, good enough for the No. 2 seed in the Eastern Conference. This marks the third time in the last four seasons that James has taken home the MVP hardware.
Even though everyone saw this recognition coming, we can feel confident reaching a few conclusions now that it's happened.
1. There's a shelf life to true bitterness, even among NBA media.


Strictly by the numbers, James has been the NBA's most prolific player essentially since he turned 20 years old. If this were just a stats-based award, his eight-year streak of putting up 27+ points, 6+ rebounds and 6+ assists would have produced more than just three MVP trophies. Everyone agreed a long time ago the MVP award would be way more subjective and narrative-based than that, though, and that cost James in 2011, when Chicago
Bulls
point guard
Derrick Rose
took home the award as voters snubbed James for his disastrous "Decision" announcement to leave the Cleveland
Cavaliers
for the Heat during the summer of 2010.
More on NBA awards
Related links
If the media collectively had carried over their resentment from last season, there were two solid candidates with compelling stories this year who could have earned MVP honors in much the same way Rose did. Oklahoma City
Thunder
forward
Kevin Durant
led the league in scoring, helped his team to 47 wins and, some argued, played better in key late-game moments than James did.
Los Angeles
Clippers
point guard
Chris Paul
put up strong numbers across the board and led his new team to the postseason, which the Clips hadn't seen since 2006.
That James trumped both is a testament to the fact that he is once again being judged -- at least mostly -- for his on-court accomplishments. Memories of 2010 linger, but they no longer seem to carry the same vitriol, at least among hoops cognoscenti.
2. LeBron improved his overall game, possibly helping avoid voter fatigue.
When a player is responsible for as many highlights and wins as James has been over the years, it's easy for fans and media alike to begin to take him for granted. Some of the dunks he throws down, for example, would be career highlights for lesser players and yet don't elicit much, if any, response because he is so regularly brilliant.
When it comes to MVP voting, "He was really freaking good again" isn't a winning campaign slogan by itself. There has to be something more -- just ask
Kobe Bryant
, who has won just one MVP award in his career despite regularly leading the league in scoring and playing for a high-achieving, big-market team.
This year, the "story" for James is that he took his efficiency and impact to new levels on both sides of the ball. On offense, he shot fewer three-pointers per game (2.4) than in any season during his career while also shooting his best ever percentage from deep (36.2 percent). Overall, he shot an astonishing 53.1 percent from the floor, the highest of his career by more than two percentage points. In addition to improving his shot selection and his insane shooting numbers, James developed a go-to mid-range jumper, a weapon that makes him unguardable when he's feeling it. Defensively, James spent time guarding all five positions, covering up Miami's lack of depth in the interior and doing whatever was asked when
Dwyane Wade
or
Chris Bosh
missed time.
Combine those factors and James was in a class by himself in terms of advanced numbers, posting a PER of 30.8, more than 3.7 points better than Paul, his nearest competition. By comparison, James had a PER of 27.32 last season, meaning he made the jump from best in the league to best by a mile.
3. The lockout schedule and injuries killed the competition.
It's rare for a defending MVP to not vie to repeat for the award the following season, but Rose was never in the mix this year due to a litany of injuries that forced him to miss nearly half the lockout-shortened season. He wasn't the only one affected. Paul and Bryant missed time,
Magic
center
Dwight Howard
ended his season early with back surgery;
Timberwolves
forward
Kevin Love
's strong year fell apart down the stretch; and the
Spurs'
trio of
Tony Parker
,
Tim Duncan
and
Manu Ginobili
averaged significantly fewer minutes than James as coach Gregg Popovich carefully managed their minutes.
In the durability department, Durant was the only MVP candidate who kept up with James, as he didn't miss a game for OKC while leading the league in minutes played. Durant's running mates --
Russell Westbrook
and
James Harden
-- combined to sit out just four games while Wade and Bosh combined to miss 28. Durant shouldn't be -- and surely wasn't -- penalized during the voting process for his teammates' good health, but the takeaway here is that James, who missed just one game before getting shut down during the season's final week, was consistently at his best this year, regardless of who was filling in around him and regardless of the screwy, condensed schedule that seemed to take a toll on so much of the competition.