Magic Johnson says Mike Brown will be fired if Lakers lose Game 7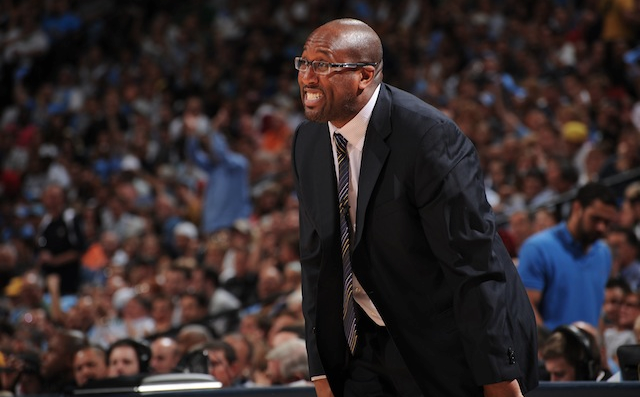 Could Mike Brown be one-and-done in L.A. if the Lakers lose Game 7?
(Getty Images)
Doesn't matter who you are, where you're from or what you're playing. Game 7 is big. Heroes are made, legends born, and all that crap.
But if you're the Lakers, all that stuff is taken up another notch. First, the expectation is always there. Second, the fact they've found themselves in this position is unsettling. Holding a 3-1 lead over what appeared to be an overmatched Nuggets team, the Lakers have slipped on the banana peel, falling flat on their collective faces. They haven't played with emotion, fight or fire. They've just coasted through two games, getting their butts handed to them once.
As a result, the pressure is on. So much so, that former Lakers legend and minority owner Magic Johnson says it's make-or-break time for coach Mike Brown.
Via the L.A. Times
:
"They're going to run Mike Brown first out of town," Johnson said as an ESPN analyst Friday. "Then second will be [Andrew] Bynum. Then third will be [Pau] Gasol."

[...]

"His job will go," Johnson said. "The Lakers are about championships. That's what the Lakers are about. if they lose this game, Mike Brown, I bet you, will not be sitting there."

[...]

"Mike Brown will not be coaching the Lakers if they lose this game," Johnson said. "There would be so much pressure on Jim Buss and the Laker organization to get rid of him."
It's more of an opinion from Magic than anything else, as Brown has two years guaranteed left on his contract and the team has publicly stood in support of him. Still, expectations are at another level in Lakerland, and with reports earlier in the year of some clashing within the locker room and then to blow a 3-1 opening series lead, Brown's seat could get red hot.
It's not necessarily fair, as Brown as quietly done a quality job of installing a new system, adding a new defensive mind-set and guiding the team through some obvious chemistry issues. But winning is what matters, especially in May and June. Dropping a Game 7 in a series that appeared to be a formality is bad -- especially when five days ago it looked all but wrapped up.
Brown's agent, Warren Legarie,
told Yahoo! Sports
that he's "confident" Brown will return regardless of Game 7's outcome. "From my talks with the Lakers it was Magic's opinion and no way a reflection of the organization's position on Mike Brown," Legarie said.
Brown has three years left on a four-year deal he signed with the team and the front office has expressed only support for Brown throughout the season. He responded to Johnson's comments
via ESPN LA
:
"Magic's a good guy and he's entitled to his opinion," Brown said. "My focus is on winning this game and that's it. All the other stuff, I don't have any control over the other stuff. I think I've told almost everybody here that's covered me, 'Hey, you guys got jobs to do.' Magic has a job to do. One of his jobs is to voice his opinion. He's a great guy. There's nothing for me to be concerned about there. I'm playing and coaching to win this game tonight and that's it."

[...]

"I think ESPN probably pays (Johnson) seven figures, so he's got to make comments whenever he feels its necessary to make comments and he's got to make the comments that he feels are the truth or he believes in or whatever," Brown said with a smile. "He's free to say what he wants. It doesn't bother me."
Obviously Magic knows the Lakers far better than I, but it's a little hard to picture Brown getting the ax so abruptly. Then again, things operate differently within an organization that has the bar set so high. All of it is moot if the Lakers win. Win it all, I mean. Because unless they're the ones hoisting the trophy at the end of the season, Mike Brown will always be on the hot seat.