NBA fines Pacers coach Frank Vogel $15,000 for comments about officiating Heat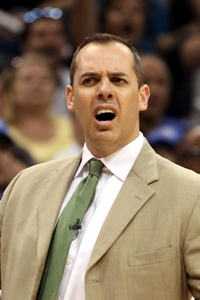 The NBA has fined Pacers coach Frank Vogel.
(Getty Images)
Indiana Pacers coach Frank Vogel decided to set the tone for his team's upcoming series with the Miami
Heat
. The NBA, in turn, decided to dock him some pay.
On Saturday,
the NBA announced
that Vogel had been fined $15,000 for comments made about the Heat and how they should be officiated during the upcoming Eastern Conference semifinals series, which begins on Sunday.
"They are the biggest flopping team in the NBA,"
Vogel said on Friday
. "It'll be very interesting to see how the referees officiate the series and how much flopping they reward."
He continued: "Every drive to the basket, they have guys not making a play on the ball, but sliding in front of drivers. Oftentimes they're falling down even before contact is even being made. It'll be interesting to see how the series is officiated."

The Heat, by and large, brushed off Vogel's comments.

Heat coach Erik Spoelstra told the Sun-Sentinel that he "could care less."

"We understand that it's playoffs," All-Star guard Dwyane Wade said, according to the paper. "There's a lot of things to be said, mind games to be thrown out there. We can't let that affect us."