LeBron and Wade dominate Game 4, but can they do it two more times?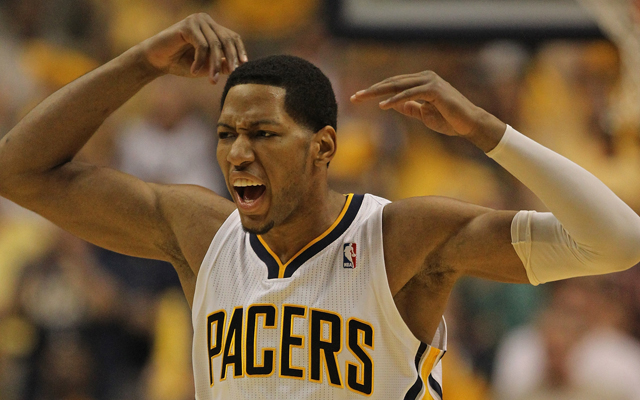 It's back to square for the Pacers, but maybe they should feel pretty good.
(Getty Images)
With a golden opportunity to take control, to take over and seize the series by the throat, the Pacers let the beast back out of its cage. The
Heat
, with their backs to the wall, evened the series 2-2 and put themselves back in the thick of it.
LeBron James
, devastating.
Dwyane Wade
, ruthless. The two combined for 70 of Miami's 101 points, scoring
38 straight
at one point in the game. It was a brilliant, magestic performance from the Heat's two superstars.
But there's a critical question to be answered, and it might be one that makes the Pacers feel a bit better about their plight.
Can LeBron and Wade do this two more times?
Obvious answer, yes. They have the ability. They can own two more basketball games and send the Heat to the second round. They're too good to underestimate.

But as I wrote after Game 2's disaster
in the first full outing without
Chris Bosh
, Wade and LeBron's margin for error is razor thin. Game 3, Wade stunk and LeBron was OK
but needed to be great
. It's clear the Heat have a major void in the middle without Bosh, and it means that Wade and LeBron need to keep it going.
The Pacers are battling uphill, though. It's a three-game series, and they have to win at least one on the road. They're staring at a Heat team that has Wade and LeBron back playing with confidence and could be a bit rattled from blowing a big opportunity to go up 3-1.
Still, they were the underdog coming in, and though that switched a bit after the Bosh injury, the Heat are team with the most to lose. They have the promise of multiple championships, legacies and reputations to build and a media spotlight that burns as bright as the surface of the sun on them.
The Pacers know that too.
"The pressure is on them," said
Danny Granger
. "They have a lot of expectations nationally from the media, ever since they assembled their team, to win multiple championships. Definitely, in this series, the pressure is all on them."
Granger has clearly tried to set a never-back-down type of tone for his team, scuffling with LeBron twice, and then Wade in Game 4. He's taken exception to even the most minor incidents, but there's a purpose to it.
"I just think we have to send a message as a team that we won't back down," he said. "They are media darlings of the NBA right now. They get a lot of publicity right now. It basically says that Indiana basketball is about playing tough, playing every possession. We're really not afraid of anybody."
One thing to fear for the Pacers and Granger, though, is a Miami team that has Wade and LeBron both going full strength. But the comfort rests in that it'll be tough for LeBron and Wade to produce two more of those games. Because that's what it's going to take. Capable, of it? Absolutely. Again, though, the margin for error is slim, and LeBron and Wade have to carry the load.
The Pacers can't get away with their mistakes of Game 4. They have to knock down open shots. Rebound. Resist foul trouble. Play smart. And if they do all of that and LeBron and Wade beat them anyway, you tip your cap to a better team and wait until next year.