Shaq turns down interview opportunity with the Magic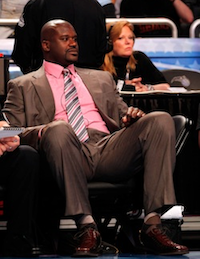 Well, these past 24 hours have been fun. They'll forever be known as the time that Shaquille O'Neal was actually rumored to be a candidate for a general manager position.
But it's over.
According to ESPN Boston
, Shaq will not be interviewing with the
Magic
.
Shaquille O'Neal, who had expressed interest in becoming the new general manager of the Orlando Magic and had been asked by the team to interview, has declined the invitation, sources close to the former player told ESPNBoston.com's Jackie MacMullan on Thursday.

O'Neal, those sources say, is flattered that the team had interest in him but has now decided he wants to stick with his new job as an analyst at TNT.
Interesting way to put that. That makes it seem as if the Magic were pursuing Shaq and not Shaq asking for a courtesy interview, which is what many assumed was the case.
Charles Barkley said Thursday in a radio interview that Shaq would be meeting with the Magic. Whether this was a stunt pulled by Shaq and his representatives, or some bad communication or whatever, it appears to be off.
Shaq released this statement last Thursday:
"When I first heard about the vacancy for the Orlando Magic general manager position, I was clearly intrigued," O'Neal began in the statement. "I was drafted by the Magic, I have a great love for the franchise and I have made the city of Orlando my home. Additionally, I have great admiration and respect for the DeVos (ownership) family.
"However, this is not a job I have an interest in pursuing. I feel very fortunate to be with TNT and to have the best job in sports. I look forward to many more years with Charles (Barkley), Kenny (Smith) and E.J. (Ernie Johnson). I wish the best for the Magic and I am confident that they will select a great GM and coach."
Starting with the 1992-93 season, Shaq spent the first four seasons of his career as the Magic's center. He led the league in scoring with 29.3 points per game with Orlando in 1994-95. He then left the Magic to play for the Lakers.