Reports: Heat F Chris Bosh goes through 'light workout' on Sunday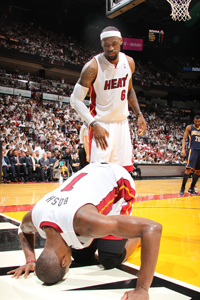 Chris Bosh reportedly went through a workout on Sunday.
(Getty Images)
Don't call it a comeback. But it does sound like progress.
Miami
Heat
All-Star forward Chris Bosh -- who has been sidelined for nearly two weeks with an abdominal strain -- went through a "light workout" on Sunday at American Airlines Arena, according to a report from
ESPN.com
.
Bosh was seen going through drills that included catching and turning with the ball. He also did some work on his lateral movement across the court in addition to shooting free throws. Bosh was not present on the practice court at the arena when the Heat wrapped up a workout earlier Sunday afternoon in preparation for Game 1.
The Sun-Sentinel
confirmed that the workout took place and both outlets reported that Heat president Pat Riley was in attendance.
The Heat will host the Boston
Celtics
in Game 1 of the Eastern Conference finals on Monday night.
On Saturday, Heat coach Erik Spoelstra
told reporters
that he was preparing as if Bosh would not be available.
"No update from before," Spoelstra said, according to the
Sun-Sentinel
. "He's doing a little bit more. It's still indefinite. ... For me, it's my responsibility right now to prepare this team without him."
Bosh suffered the abdominal injury in Game 1 of an Eastern Conference semifinals series against the Indiana Pacers on May 14, has been listed out "indefinitely" with the injury. The Heat went on to eliminate the Pacers in six games.
Last week
, Bosh spoke hopefully about a postseason return.
"I'm just hoping that everyone can keep doing what they're doing and extend the season," Bosh said on Wednesday, according to ESPN.com. "I do have a chance to play again. That's the light at the end of the tunnel for me. That keeps me going every day."
Bosh, 28, averaged 18.0 points and 7.9 rebounds per game for the Heat this season. He appeared in 57 of Miami's 66 regular-season games.