Celtics sputter on offense in Game 1 vs. Heat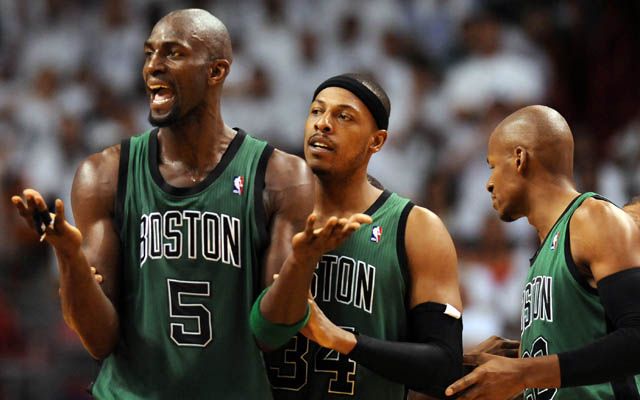 The Miami Heat caused lots of problems and raised lots of questions for the Boston Celtics on Monday night.
(Getty Images)
MIAMI -- The Boston Celtics didn't absorb the full force of a Miami Heat offensive explosion, but in some ways that made Monday night's Game 1 loss that much worse.
The Heat delivered a B performance in their 93-79 victory, settling too often throughout the game and totally losing focus during the second quarter. They got serious in the second half, turning the screws on defense in the third and cranking up the highlights in the fourth to cruise to the win.
In so doing, they reminded the Celtics of a simple "numbers don't lie" truth: Boston must get into the high-80s, at minimum, to keep pace offensively.
The Celtics can slow the game down and grind to the fullest all they want; dominance on one side of the ball simply won't defeat a team as balance, talented, athletic and focused as the Heat.
"Offensively we just have to be more efficient," Celtics coach Doc Rivers said. "I didn't think we played great defensively and we still held them to 93 points. But at the pace the game was played, 93 felt like 110 because it was a slow-paced game."
With the exception of two losses to the Indiana Pacers immediately following the loss of Chris Bosh to an abdominal injury, the Heat have hit 87 points or more in every single game of the 2012 postseason. Monday's 93 points made it 10-for-12. They breezed past that magic number despite shooting just 5-25 from 3-point land and missing seven of their 23 free throw attempts.
Miami's 93 points also felt like 110 because of some late-game flashes of brilliance from LeBron James and Dwyane Wade, a tandem that has been scoring at will over the last four games. James was the game's controlling force, tallying 32 points, 13 rebounds and 3 assists. He singlehandedly outscored the slow-starting Celtics in the first quarter, 13-11, and showed off the full array when all was said and done: an alley-oop dunk, a turnaround jumper, a kiss off the glass and a touchdown catch. But it was Wade who blew this one open, scoring 10 of his 22 points in the fourth quarter, freezing
Ray Allen
with a crossover dribble in one breath and pulling up to go bank while falling away in the next.
It was in some of those flashes that Miami got to the quicker pace it prefers, and while Boston did well to take care of the ball, committing just 9 turnovers on the night, the Heat dominated the rebounding battle, 48-33. Much of that was due to Boston taking and missing contested jumpers. Credit for that, Rivers said, goes to James and Wade, whose quickness and off-ball defense blunted Boston's attack.
"Their defense was phenomenal," he said. "I thought they did a great job of doubling, getting back, playing the passing lanes. They're cat quick. That's who they are... As much as you can watch it and prepare for it, I do think you need to face it once to see it, and get used to it. I thought their speed at times overwhelmed us for sure."
The Celtics shot 32-for-81 overall, looking a step slow and a few steps old, no thanks to the quick turnaround from Saturday's Game 7 against the Philadelphia 76ers. The technical fouls assessed to Doc Rivers,
Rajon Rondo
and Ray Allen did them no favors either.
"I know mine wasn't [deserved]," Rivers quipped about the technical he earned for arguing a second-quarter non-call. "I can tell you that much. I don't know how long I've been in the league but that has to rank as the worst I've ever had. I would have loved to earn it."
Frustration with the referees aside, the issue to address after Game 1 is all offense. Boston has only reached 87 points in six of its 14 postseason games so far. Where does the firepower come from if the Celtics are to make this a series?
It starts with Rajon Rondo, as it always does these days, who needs to play like the "head of the snake" that Wade promised he would be. Although he finished with 16 points, 9 rebounds and 7 assists, Rondo was a bit player compared to the Heat's starpower, unable to command the tempo or pace and unable to get anyone besides
Kevin Garnett
going.
Heat coach Erik Spoelstra said the gameplan on Rondo was to confuse him by showing him different looks in an attempt to negate his biggest strength.
"His unpredictably, that's his greatness," Spoelstra said. "So the only thing you can emphasize is you have to make unpredictable, possession-saving plays as well."
Rivers said Miami's defensive schemes and changing match-ups got to Rondo, confusing and frustrating him, especially as the floor shrank because Boston collectively shot just 4-for-14 from deep.
"His IQ hurts him at times," he said. "He's trying to read the defense. You can't read and play at speed at the same time. We go through it a lot, Rondo and I: 'Rondo, just trust your instincts. Your speed has to be part of it. Your instincts will take over. You'll make the right decision.'"
Getting Rondo playing to his full capabilities is only step one. He will need help, and lots of it, from a shrinking cast of characters. Garnett, who finished with a team-high 23 points and 10 rebounds, was reliable, productive and aggressive, Boston's backbone once again in a postseason where he's been the team's surest thing.
Paul Pierce
, though, did more harm than good. Pierce finished with 12 points on 18 shots, bad numbers that would have looked much worse if not for two threes during Boston's one strong push, which came in the closing minutes of the first half. If Pierce and James were pitched as long-time rivals entering the series, it's likely best that talk disappears, if only to save Pierce's well-earned pride.
Allen was simply off, again. After shooting just 38.3 percent from the field against the 76ers in the Eastern Conference semifinals, he shot just 1-for-7 in 38 minutes on Monday. As the game wore on, the Heat drove by him with increasing ease. The ankle is what it is, as they like to say, and the Celtics are now faced with a team that is opportunistic and dynamic enough on the perimeter to take full advantage of his severe limitation.
"He got a bunch of wide open shots tonight, with him, it's just balance," Rivers admitted. "When you have a bad foot or ankle or anything, the balance is off, you can see it on Ray. The ball is going left a lot. He's one of the greatest shooters of all time. Ray is going to try to figure it out, we're going to try to figure it out."
The coach said that with hope but, in the minutes following a sound defeat, not all that much conviction. Allen's injury won't fix itself, that much has been acknowledged. Next up in terms of bitter pills to swallow: Pierce can play better, but he isn't likely to win his match-up with James; Garnett can't reasonably be asked to do much more than he did in Game 1; Boston's injury-depleted bench lacks a likely candidate for an offensive boost.
So where do the points come from? One guy who could help:
Brandon Bass
, who hit double figures three times against the 76ers, including 27 points in a Game 5 blowout win, but scored just 8 points on 11 shots and was never a factor.
Bass would be helpful but he's not a panacea. The big-picture answer is Rondo, as discussed, making everyone around him incrementally better and sticking with the "attack mode" that Rivers wants to see from him. During a 35-point second quarter, the Celtics reeled off a 15-5 run before halftime, getting some breakaway points and getting points at the rim by throwing lobs over the top of Miami's defense. There were bursts, but not enough to overcome the slow start and a 15-point third quarter that killed the pre-halftime momentum.
"On the road, you just can't have two quarters of lulls. You just can't afford it," Rivers said.
That's the Game 1 takeaway: the Heat will not allow lulls. The Celtics find fluidity on offense -- and Rondo adds a consistentency to his excellence that has so far eluded him during the playoffs -- or summer starts early next week.