Anthony Davis wants to shut Kobe Bryant down, says to tell him 'I'll be waiting'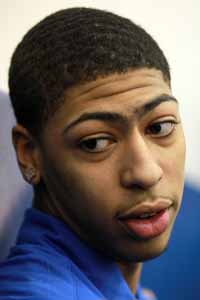 Anthony Davis wants a piece of Kobe?
(Getty Images)
Can't say the kid isn't ambitious. Little stupid maybe, but then, weren't you at 19?
Anthony Davis was on the Dan Patrick Show Thursday and the subject of Kobe Bryant came up. The presumptive No.1 pick who is expected to be a defensive monster did not shy away from the topic of the Laker great, and in fact, well... The
L.A. Times
has the transcript:
"[Kobe]'s a monster. So I just want to go out there and play my hardest," Davis said Thursday on the "Dan Patrick Show." There's a lot of guys that can't stop Kobe. So if I stop him I could be one of the guys that say, 'I shut Kobe down'."

"Be careful what you ask for Anthony," Patrick told the former Kentucky standout. "He listens to the show and he has a great memory."

Retorted Anthony: "Tell him, I'll be waiting."
via Anthony Davis wants to shut down Kobe Bryant - latimes.com.

Woah, woah, woah there, kiddo.

Let's try adjusting your lithe frame to the rigors of banging with Kevin Garnett, Dwight Howard, and Andrew Bynum first. Let's try learning about rotations and hedging on the pick and roll first. Let's try leaning how to react and respond, how to attack, and how to go against guys who were all the best players on their college teams.

Then, we can talk about challenging one of the best players of the past decade, a Hall-of-Famer who has destroyed defenses night in and night out for years.

But on the other hand...

Bryant has a nasty habit of trying to go too hard in rivalry or disrespect games. He winds up trying too hard and winding up with a bad percentage. But if he shoots 30 times against what will still be a bad Hornets team, he can put up the numbers.

Beyond that, though... how many times is Bryant going to be matched up with Davis? It would have to be on a switch off the pick and roll, and then, Bryant would have to clear to isolate, when typically he goes under and shoots or drives wing off it for the jumper or pass. Davis could theoretically meet him at the rim, but considering Bryant's age, it's not likely to happen. It's a weird idea.

But the sentiment is the same. The kid wants to come out and make a statement, and that will be admired by some, while others are disgusted by it. At least the No.1 overall pick is giving us some headlines.

(HT: IAmaGM.com)