Heat advance to NBA Finals with Game 7 win over Celtics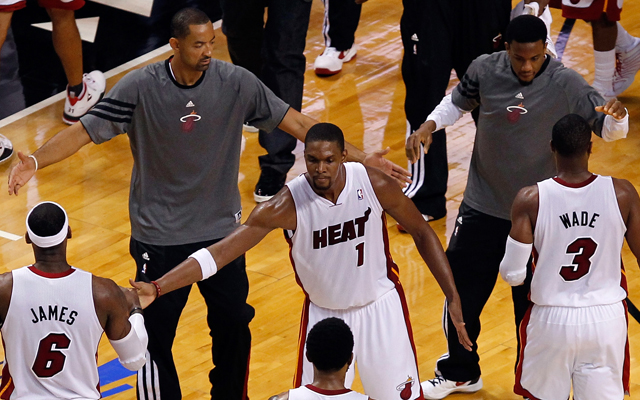 The Heat's big three are heading to the Finals for the second straight year.
(Getty Images)
MIAMI -- The Miami
Heat
advanced to the 2012 NBA Finals with a 101-88 victory over the Boston
Celtics
in Game 7 of the Eastern Conference finals at AmericanAirlines Arena on Saturday night.
They move on to face the Oklahoma City Thunder thanks to a fourth quarter dominated by their star trio --
LeBron James
,
Dwyane Wade
and
Chris Bosh
-- which was reunited less than a week ago when Bosh returned from an abdominal strain that kept him out for three weeks.
With the game tied at 73 entering the final quarter, the trio played perhaps their best quarter together, accounting for all 28 of Miami's points in the final twelve minutes. The last Heat player other than the Big 3 to score was guard
Mario Chalmers
with 1:45 remaining in the third quarter. In all, the Big 3 scored Miami's final 31 points in the game.
James led the way with 31 points, 12 rebounds, two assists, one block and one steal.
Wade added 23 points, six rebounds and six assists.
Bosh finished with 19 points and eight rebounds and made three huge, unexpected 3-pointers.
Game 1 of the NBA Finals is set for Tuesday night at Oklahoma City's Chesapeake Energy Arena.