Thunder not worried about who's starting for Miami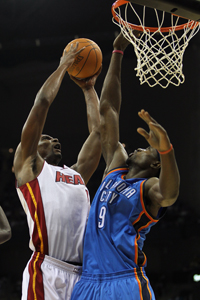 Is Bosh starting? Who knows, and the Thunder don't care.
(Getty Images)
OKLAHOMA CITY -- It's the biggest question leading into Game 1.
What will Russell Westbrook and Dwyane Wade be wearing postgame?
OK, it's the second biggest question.
Is Chris Bosh starting?
There are pros and cons, good reasons and bad
. What Erik Spoelsta decides will be known about an hour to tipoff. But the
Thunder
are who have to prepare for whatever the decision is, because the
Heat
are a different team with Bosh starting, or coming off the bench.
"It's a little bit of a difference," Thunder head coach Scott Brooks said. "But it doesn't matter. Serge [Ibaka] is going to guard either one [Bosh or Battier], whoever they start at the 4."
The Thunder have used the same starting five essentially all season, and the same starting five the entire postseason. They don't change, even if their opponent does.
"We've been playing against different lineups all year," Brooks said. "Serge has done a good job and I give him a lot of credit. We talked about, going into this season, him being able to guard stretch 4s. And he's done a great job at that. So put Battier out there, and I think Serge is in a good position to do a good job with him."
Said Ibaka about his responsibilies: "I'm just ready to play. I don't care if I need to guard small or big. This is the playoffs. This is the NBA Finals. It's not time to think two or three times. I'll be ready play any time the coach calls my name to play defense."
The Thunder like their rotation and as Brooks said, won't deviate based on what the Heat do. Oklahoma City will clearly play the matchups, but Ibaka will guard the opposing forward and then adjust from there.
"We've got a good team and when we're in tune defensively, I think no matter what they throw at us, we'll be ready for it,"
Thabo Sefolosha
said.
That's a bonus for the Thunder. They're versatile. They're athletic. They can adjust on the fly, play different players in different places, moving parts around. If Bosh starts, that will change things, but nothing drastically. For OKC, it's just about doing their thing.