Hornets trade Emeka Okafor, Trevor Ariza to Wizards for Rashard Lewis and No.46 pick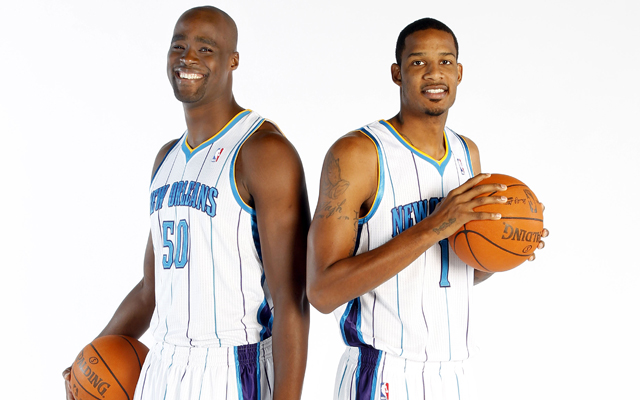 Trevor Ariza and Emeka Okafor are headed to Washington.
(Getty Images)
The Hornets are not going to waste a second in moving into the next era of New Orleans basketball. After landing the No.1 pick in this month's draft, there was widespread talk of the Hornets doing everything they could to clear cap space.
They followed through on that idea on Wednesday, trading Emeka Okafor and Trevor Ariza to Washington for Rashard Lews and the No.46 pick in the draft.
New Orleans trades Emeka Okafor and Trevor Ariza to Washington for Rashard Lewis and the #46 pick. (damn you auto-correct)

— Jonathan Givony (@DraftExpress) June 20, 2012
Souce confirms @DraftExpress report that Hornets have agreed to trade Emeka Okafor and Trevor Ariza to Wizards for Rashard Lewis, 46th pick.

— Ken Berger (@KBergCBS) June 20, 2012
The move is clearly designed as a cap saver for the Hornets, who clear close to $30 million if they buy out Lewis for $13.8 million before July 1 (via Ken Berger of CBSSports.com). The Hornets just got rid of their two biggest remaining contracts and have more than enough room to match any offer for Eric Gordon in restricted free agency. They can build any team they want to at this point.
For the Wizards ...
Yeah, we're not sure what the Wizards are thinking here. It's true that Ariza and Okafor are competent veterans who can play next to John Wall and Nene in a more established team, but those are longer contracts that are overvalued. It clears room for the amnesty of Andray Blatche, but is that worth what they're taking on?
Okafor has roughly $28 million left on his deal, and Ariza has $15 million, with both deals running through 2014. That's quite a bit of money to take on over multiple years. This wasn't about clearing space, it was about adding it. For a team that is still unlikely to make the playoffs.
The Wizards seem to be reacting to their failed attempts at cheap youth by going expensive veteran. They won't be as boneheaded as before. But will they be any good?
The thought process is very likely that instead of committing long-term money in a weak free agency class, the Wizards elected to bring in shorter contracts for starter-quality players. They would have lost Lewis for nothing, even in the buy-out, and here they gain two players to help build a roster without adding anything long-term.
Draft ramifications: Given Ariza's similarity and positional overlap with Michael Kidd-Gilchrist, you have to think that causes a hiccup with the Wizards taking him at the No.3 spot if Bradley Beal goes No.2. Should Beal not go to the Bobcats, however, automatically Beal is a no-brainer at the No.3 spot to fill in the rest of the Wizards' starters.
You can take MKG and split time with Ariza, but Ariza may develop an issue with that, and burying MKG is a bad way to start his career. Thomas Robinson is in a similar spot here with Nene on roster, and Andre Drummond the same with Okafor. Obviously with a pick that high you can take the best player available, but the Wizards clearly are aiming for roster coherency and neither of those players addresses their needs.
The Hornets now have the luxury of taking the best center available at No. 10 to play next to Anthony Davis, or going with one of the available talented wings there. This gives them more options without creating rorster jams.
Overall Grades:
Hornets -- A+ They clear cap enough cap space to buy a small country and get rid of two long-term contracts that did nothing for them. Okafor and Davis would have been a great shot-blocking pair, but the Hornets now have room to match any and all offers for Eric Gordon in restricted free agency and still have room to take on another contract in order to acquire a pick. They are set to build the right way in New Orleans.
Washington Wizards -- D- Well, at least they added a lot of money in getting two marginal players that don't necessarily complement John Wall in any way. Ernie Grunfeld just got an extension. Yup, this is the NBA.