Report: Tony Parker sues club for $20 million after Chris Brown/Drake fight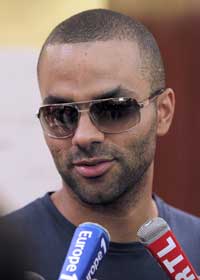 Tony Parker is reportedly suing a nightclub.
(Getty Images)
The party got crashed, an eye got smashed, and now Tony Parker is reportedly looking for some cash.
The New York Daily News reports that San Antonio Spurs All-Star point guard is suing a nightclub after he was allegedly injured during a fight that apparently involved multiple major music stars.
Tony Parker is suing a New York City club and its operators for $20 million over a scratched retina he says he suffered during a fight involving singer Chris Brown and members of hip-hop star Drake's entourage.

The suit was filed in State Supreme Court in Manhattan on Thursday. It says the W.i.P club in SoHo and its operators were negligent in security and supervision, which allowed the fight to take place.
Last week, we noted a report that stated that the fight was reportedly over singer Rihanna, who has been linked to both Brown and Drake.
Parker offered this statement about his eye to French website Direct Star.
"I was quietly with my friends when a fight broke out. Bottles started flying everywhere. I tried to protect my girlfriend and I got everything," Parker said, wearing sunglasses to hide the wound.

"The cornea is affected. I cannot do anything for seven days. Wear a therapeutic contact lens and I get drops. I was lucky, that I almost had to get stitches," he added.
Parker, 30, guided the Spurs to the Western Conference finals in 2011-12, averaging 18.3 points, 7.7 assists and 2.9 rebounds in 32.1 minutes per game. He is set to captain the French national team during the 2012 London Olympics and the injury is not expected to sideline him.