Report: Houston's real trade target is Dwight Howard through lottery picks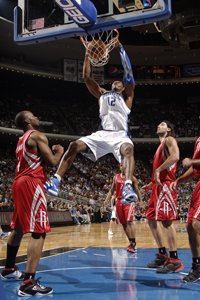 Will the Rockets pull of a trade for Dwight Howard?
(Getty Images)
We shared with you late Sunday night a report that indicated the Rockets were heavily invested in pursuing a trade for either the No. 5 or No. 8 pick in Thursday's draft, with Andre Drummond the reported target.
Shortly after that report was posted, ESPN updated and said that the real objective behind a move for higher lottery picks is to obtain both the No. 5 and No. 8, and then swap them to Orlando for Dwight Howard. Welcome back to the rumor mill, Dwight!
Upon hearing of Sunday night's developments, one rival general manager told ESPN.com that he believes Houston's real aim is acquiring two top-10 picks this week to turn around quickly and offer both to the Orlando Magic as part of a considerable trade offer for Dwight Howard.

The Rockets' willingness to trade for Howard -- even without the All-Star center's signature on a contract extension -- is an open secret around the league. But it's believed that two top-eight picks, assuming Houston managed to complete trades with both Sacramento and Toronto, would seriously pique the interest of new Magic general manager Rob Hennigan, who could then quickly start following the same sort of roster-building blueprint relied on by his previous employers in Oklahoma City.
via Rockets set sights on moving up in draft - TrueHoop Blog - ESPN.
The Rockets have long been said to be willing to pursue Howard in what's referred to as the rental option, where the Rockets take him on even without long-term assurances that Howard will re-sign with the team in free agency. The Rockets are in a unique position to cash in and gamble, with a core that can trade several good players (including Kyle Lowry) and still be in a position to contend immediately with Howard. Throw in the extra pick they have from New York, and the Rockets could pull this off.
It's a major risk, but for a team that has stayed patient and stable so long, it may be time to go ahead and make a big move.
This certainly qualifies.