Report: Oklahoma City Thunder, Scott Brooks complete 4-year contract extension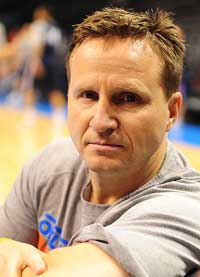 Scott Brooks should be in OKC for the next four years.
(Getty Images)
It came down to the deadline, but the no-brainer deal of the offseason is reportedly done.
NBA.com reports on Sunday that the Oklahoma City Thunder and coach Scott Brooks have finally completed a 4-year contract extension that had been in the works for months.
After months of discussions that went down to the wire, the Oklahoma City Thunder and coach Scott Brooks have reached basic agreement on the numbers of a new four-year contract in excess of $4 million annually, and were working out contract language Saturday night with the hopes of getting the deal done on Sunday, when Brooks's current deal expires, according to a league source.
A 4-year contract carries Brooks through the 2015-16 season, the same year that All-Star forward Kevin Durant's current contract will expire. All-Star guard Russell Westbrook is signed through 2016-17. Brooks has drawn praise for his ability to engage and motivate his young stars.
The Thunder won the Western Conference in 2011-12, advancing to the NBA Finals, where they eventually lost to the Miami Heat in five games.
The Thunder was Brooks' first head coaching job; he took over from fired coach P.J. Carlesimo in 2008. In four seasons, he's helped transform OKC from a 23-win team to a finalist in the NBA's championship series, amassing a record of 174-125 (.582). That includes taking the Thunder to the Western Conference finals in the last two seasons.
Brooks, 46, is one of the youngest coaches in the NBA. He played 10 years in the NBA -- with stops with the Philadelphia 76ers, Minnesota Timberwolves, Houston Rockets, Dallas Mavericks, New York Knicks and Cleveland Cavaliers -- and averaged 4.9 points and 2.4 assists per game.