Denver Nuggets agree to sign G Andre Miller to 3-year contract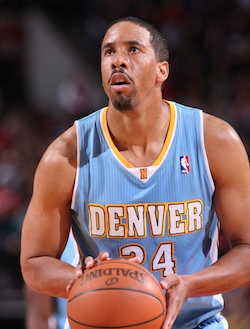 The Nuggets and Andre Miller have reportedly agreed to a 3-year deal.
(Getty Images)
The ageless floor general with the old man game just got paid again.
The Denver Nuggets have agree to re-sign unrestricted free agent guard Andre Miller to a 3-year contract, according to Yahoo Sports. Ken Berger of CBSSports.com confirms the agreement, which can't be made official until July 11, once the NBA's free agency moratorium is complete. The size of the contract and whether or not it includes a player or team option is not yet known.
The move doesn't come as much of a surprise; indeed, back in May we predicted that Miller would stick around in Denver. Miller enjoys a good relationship with Nuggets coach George Karl and Denver nearly managed to upset the Los Angeles Lakers during the first round of the Western Conference playoffs.
At 36, Miller remains effective. He's one the league's premier lob-tosser, he's a strong rebounder for his position and he's a master of all available "old man" tricks. 2011-12 season saw him numbers decline for the fifth straight year -- he averaged 9.7 points and 6.7 assists, the first time in his 13-year career that he hadn't hit double figures in points.
After some early season squabbling about wanting to be a starter, Miller embraced his big-minutes reserve role and was very effective off of Denver's bench, playing his fewest minutes (27.4 per game) since his rookie season. Pairing him with an above-average starting point guard who can carry a team full-time is an ideal situation. The Nuggets happen to have Ty Lawson to do just that.
The last time Miller hit free agency, in 2009, he signed a 3-year contract with a team option on the final year with the Portland Trail Blazers. The Blazers traded Miller to the Nuggets on the night of the 2011 NBA Draft.