Dwight Howard says 'only one team' (Nets) a trade option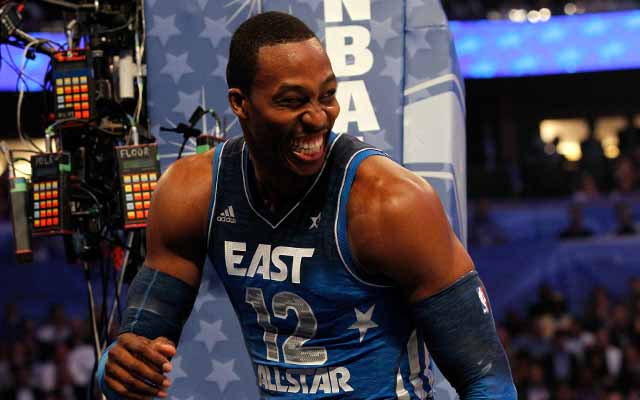 Dwight Howard denies claiming the Magic blackmailed him.
(Getty Images)
Dwight Howard is going on the offensive to get what he wants, and his view, set the record straight.
With rumors swirling about a possible trade to the Los Angeles Lakers, and about a request from Howard to Magic management to trade him to the Brooklyn Nets, and after an ESPN report said that Howard had told the NBPA he felt the Magic "blackmailed" him prior to his signing his opt-out waiver at the trade deadline, Howard spoke with Yahoo Sports and brought the big guns.
Howard says he will only re-sign with a team on his preferred list, his list only has one team (the Nets) and that he never claimed the Magic blackmailed him. From Yahoo Sports:
As the Los Angeles Lakers, Houston Rockets and other teams prepare possible trade offers for him, Howard told Yahoo! by phone that, "There's only one team on my list and if I don't get traded there, I'll play the season out and explore my free agency after that."

Howard wouldn't specify the team, but multiple league sources believe that it is the Brooklyn Nets.

Howard also denied an ESPN report that he had told people Orlando Magic officials had "blackmailed" him into forgoing the early termination option on his contract that ultimately cost him his free agency this summer.

"I never used the word blackmail in reference to any of my dealings with the Magic," Howard said. "I never said that. It's defamatory and it's inaccurate. I know what blackmail means and any report that I used the term incorrectly is inaccurate."
via Dwight Howard: I'll only re-sign with one team - Yahoo! Sports.
Whew.
OK, a few things:
One, Howard doesn't deny that he spoke with the NBPA. He doesn't deny that he had a problem with how the Magic treated him the week prior to signing the opt-out waiver. He does very strongly deny the term "blackmail" was used, at least by him. That could be interpretation from ESPN's source, a misunderstanding, a paraphrase, a phrase used by one of his representatives, anything. But there's a lot beneath the surface from this, even as Howard states he did not accuse anyone of blackmail. Which is comforting, since it made absolutely no sense at the time.
Two, Howard is trying very hard to ward off any attempt by the Magic to trade him to a "rental" team like the Rockets. It's a full-court press to avoid a situation in which a team other than the one he wants gets his Bird rights. What's the big deal, since he'll be an unrestricted free agent next summer regardless? Howard wants the extra year and raise structure that comes with re-signing with the team that has his Bird rights. If he's traded to Houston, for example, and he decides to sign with the Brooklyn Nets, he can't sign for five years, only four, and he loses that raise structure.
So the comments are aimed to make it clear not to trade for him if you're not one of the teams he likes. It's a massive leveraging effort that involves a player, on record, talking about wanting to play for another franchise, without explicitly stating what team that is to avoid possible fines, on record. It's a big old power play in plain sight.
The game of chicken does have another side, though. If a team believes that A. the money matters that much to Howard (which it often does) and B. they can convince Howard they can win with him, it might be worth the risk. It's calling the bluff from Howard's team. "We don't believe you want to walk away from the money bad enough to leave us." It's a risk, but then, it's also got a huge payoff.
We're still left with a lot of questions. Why is there only one team on the list? Who leaked the blackmail claim, and why? What are the ramifications of Howard's public statement? And of course, most of all, this:
Where is Howard going to play next season?