Reports: Boston Celtics agree to re-sign Brandon Bass to 3-year contract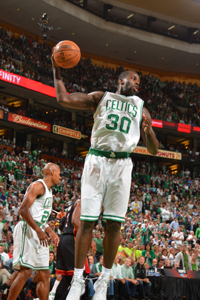 Brandon Bass will reportedly remain with the Celtics.
(Getty Images)
Another piece (reportedly) retained.
The Boston Celtics have agreed to re-sign forward Brandon Bass to a 3-year contract, according to the Boston Herald. NBA.com has confirmed the agreement.
The contract cannot be made official until July 11, when the NBA's 10-day free agency moratorium is complete.
Bass decided not to pick up a $4.25 million player option back in June but said at the time that remaining with the Celtics was his first choice.
"I would love to be back here," Bass told WEEI.com in June. "The fans here are unbelievable. For any player, this organization is the organization that you want to play for... This group here was like family. For the first time in a long time it felt like family. We had fights, we had ups, we had downs but at the end of the day we fought for each other. I'm just grateful to be a part of this group."
The Celtics have agreed to re-sign All-Star forward Kevin Garnett and are continuing negotiations with guard Ray Allen, who reportedly has interest in joining the Miami Heat. If Allen agrees to re-sign, all the major pieces from the team that pushed the NBA champion Heat to seven games in the Eastern Conference finals will be back.
Bass, 27, averaged 12.5 points and 6.2 rebounds for the Celtics during the 2011-12 season. He was acquired by Boston in a December 2011 trade with the Orlando Magic for forward Glen Davis.