Report: 76ers trade rights to overseas player to Warriors for Dorell Wright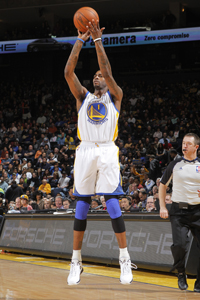 The 76ers have added yet another wing.
(Getty Images)
The Philadelphia 76ers, the team with all the wings.
The 76ers have acquired small forward Dorell Wright from the Golden State Warriors in exchange for the rights to an unknown European player, according to CSN Philly.
The initial report had the Sixers sending a future draft pick, but The Associated Press is reporting that it is the rights to a player currently playing in Europe.
After drafting wing player Moe Harkless with the 15th pick and signing Nick Young to go with Evan Turner, Andre Iguodala and Thaddeus Young, the 76ers have added yet another perimeter-oriented player in Wright.
Wright is one of the best 3-point shooters in the league and at 6-9 has some solid defensive chops as well. He can play two positions well, knock down shots and defend the perimeter.
The 76ers were eliminated in the second round of the playoffs in seven games by the Boston Celtics, with one reason being their inability to score consistently.
Wright, 26, spent six of his eight seasons in Miami before playing the last two with the Warriors. He developed into an extremely gifted shooter, hitting more than 37 percent of his 3s the past three years. He averaged 16.4 points and 5.3 rebounds per game for the Warriors in 2010-11.
The Warriors are already a bit wing heavy themselves after drafting small forward Harrison Barnes with the seventh overall pick. Add that to second-year guard Klay Thompson and Richard Jefferson, there just wasn't a ton of room, or need, for Wright.
Trading Wright might signal the Warriors will keep Brandon Rush, who is a free agent.
Wright averaged 10.3 points and 4.6 rebounds in 27 minutes per game last season.