USA cruises to win over Dominican Republic but an injury, trash talk steal headlines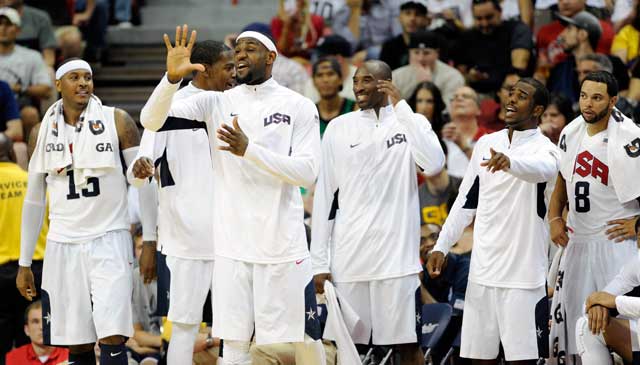 The rout was on for the USA against the Dominican Republic in Las Vegas on Thursday.
(Getty Images)
LAS VEGAS -- It's not often a 54-point USA Basketball blowout victory would be relegated to second billing, let alone third. But Thursday was no ordinary day for the program.
On the court, things went just as planned. USA dominated the Dominican Republic 113-59 in its first pre-Olympics exhibition game, using merciless on-ball pressure defense to get out in transition time and time again. USA was led by 24 points and 10 rebounds -- including five 3-pointers -- in 22 minutes from a very focused Kevin Durant. Player of the game honors went to Andre Iguodala, who was all over the court on both ends, on his way to 18 points, 3 rebounds, 1 assist and 2 steals on 7-of-9 shooting in 20 minutes off the bench.
But even as LeBron James, Kobe Bryant and company were rolling up the easy victory in front of a rowdy, patriotic crowd in the Thomas & Mack Center, one of their teammates, Blake Griffin, was receiving bad news that wound up being the day's biggest headline. Griffin, it was confirmed by the Los Angeles Clippers, suffered meniscus damage in his left knee that will require arthroscopic surgery that will force him to miss the 2012 London Olympics.
Griffin will be replaced by New Orleans Hornets big man Anthony Davis, the No. 1 pick in the 2012 NBA Draft, although USA Basketball Chairman Jerry Colangelo said during his postgame comments that the roster switch likely wouldn't become official until Sunday. Davis scored nine points and grabbed one rebound in nine minutes of action.
"[Griffin] has to officially withdraw and then we're free to make an official replacement on our roster," Colangelo said. "In the interim, Anthony Davis will be with us. He is an alternate and that worked out and created a great opportunity to get some minutes in tonight. That was great to see."
While Griffin's injury and withdrawal from the team were unwelcome news, Bryant set the post-game "mixed zone" media crowd into laughter with his ongoing banter with the 1992 team. Earlier this week, Bryant suggested the 2012 team could beat the undefeated, Barcelona gold medal winning squad that starred Michael Jordan, Magic Johnson and Larry Bird.
Jordan said Thursday that the idea made him laugh. Asked about Jordan's response, Bryant turned his confidence and profanity to full blast.
"So what? He knows I'm a bad mother[expletive]," Bryant said. "I'm not really tripping."
The rest of Bryant's thoughts on the hypothetical match-up are posted here.
Aside from Bryant's declaration of excellence, USA was very calm and by-the-book in its post-game approach. Some of the seriousness can be explained by the long road ahead. On Friday, USA travels to Washington D.C. where it will continue its pre-Olympics exhibition tour with a Monday exhibition against Brazil. From there, a visit to Manchester, England, and then on to Barcelona, Spain, before settling in for Olympics group play on July 29.
Add it all up, and Thursday's exhibition was the first of 10 games USA will play over the next 25 days, and that's before the elimination rounds begin.
So what did they show in their debut? Here were three things worth noting from USA's dominating performance.
No. 1: Lineups and looks
The United States started the first half with a lineup of Chris Paul, Kobe Bryant, LeBron James, Carmelo Anthony and Tyson Chandler. The first substitution was Kevin Durant for Chandler, giving USA a very versatile, potent offensive attack.
USA switched things up during the second half, starting Deron Williams, Bryant, James, Anthony and Durant, in part because Paul's minutes were limited due to an injury suffered to his right wrist and thumb during training this week.
USA coach Mike Krzyzewski clearly enjoyed the versatility of the smaller lineups, and going small had no negative impact defensively or on the glass. USA was plus-10 rebounding and was able to defend Al Horford, one of the NBA's better centers, even when Chandler wasn't on the court.
No. 2: Kevin Durant on a mission
Was this the beginning of a global revenge tour for the Oklahoma City Thunder superstar? Durant simply couldn't miss on Thursday night, dropping in five of his six 3-point attempts, making the international 3-point line look like an effortless mid-range jumper time and again. Remember, Durant's Thunder lost in the NBA Finals only weeks before USA camp opened, so the loss is obviously still lingering. He simply looked like a man on a mission from the moment he stepped onto the court, shooting without a second thought and making a number of nifty moves to send the Dominican defenders reeling.
While starting designation really doesn't mean all that much in this setting, Durant really should be starting.
No. 3: Resting LeBron James?
There's no question these days as to who the best player in the world is: James established his supremacy during an MVP 2011-12 season and a sensational 2012 playoffs that culiminated in his first championship ring and a Finals MVP trophy. On and off the court, James, now entering his prime, is the central force and personality on this team. For all intents and purposes, this is his team, with Kobe Bryant playing the elder statesman role.
But James played only 17 minutes on Thursday, scoring 7 points on 2-of-5 shooting with 2 rebounds, 3 assists, 1 steal and 1 block. Of course, USA didn't need him for a second more than he played; indeed, they would have rolled had he sat out entirely. But Krzyzewski made it clear throughout the week of training that James would sit out 5-on-5 action to help him rest and get caught up energy-wise from the enormous burden he carried during the lockout-shortened, condensed season.
James, for his part, has said he's healthy but he's certainly not complaining about any time off. On Thursday, he was one of Team USA's most vocal bench cheerleaders, getting especially animated when Russell Westbrook got off the Dominican Republic's point guards on the perimeter and when Andre Iguodala rose to throw down a dunk in transition.
Most likely, Krzyzewski will continue to lean heavily on his bench during the pre-Olympics exhibitions, saving his stars' legs for the all-important showdowns against the likes of France, Argentina and, most of all, Spain.