Report: Kris Humphries signs two-year deal with Nets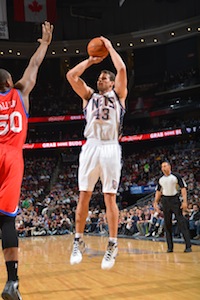 Kris Humphries will be with the Nets for more than 72 days.
(Getty Images)
Kris Humphries has never been big on long-term commitments, so two years probably seems like an eternity.
According to ESPN.com, Humphries has signed a two-year, $24 million deal with the Nets. It's not really a surprise as Humphries had made it pretty clear where he wanted to be, but his name was involved in a couple different trade scenarios including deals with Charlottle, Cleveland and Orlando.
Humphries was looking for a long-term deal and while he only got two years, he's also getting $12 million a year. Which seems like a bit much. He's been a very productive power forward the last two seasons averaging double-doubles, but $12 million is big time money.
But, he fits well next to Brook Lopez is who a little bit of a finesse center who doesn't rebound while Humphries is a rugged, physical rebounder. So in terms of need, Humphries fills a big one.
With his deal, that brings the Nets' offseason spending to around $325 million in committed money for contracts for Deron Williams, Gerald Wallace, Lopez, Joe Johnson and Humphries. Owner Mikhail Prokhorov has deep pockets and he's showing them off. In the starting five alone, Wallace is the lowest paid player, and he's making $10 million per year.
The question is, after all of that spending, are they a top four Eastern team? Can they compete with the Heat or Bulls?
Humphries, 27, averaged 13.8 points and 11.0 rebounds per game last season.