David Stern blames Dwight Howard's agent for all the recent leaks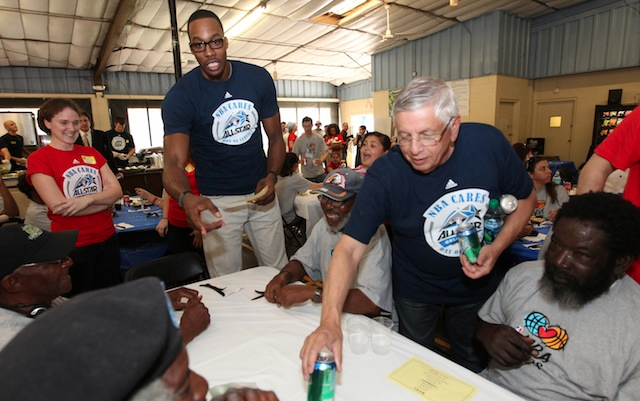 David Stern kindly would like for Dwight Howard's people to shut up.
(Getty Images)
Other than finally pulling the plug and trading him, there's one thing that could sort of stop this Dwight Howard madness.
For people to shut up.
Like the rest of us, David Stern has been an interested onlooker to the Dwightmare and was able to cut through the spin to figure out what the latest information was and where it was coming from. Via USA Today:
Asked what he thought of the Howard situation, which threatens to engulf another season for the Magic, Stern chided [Howard's agent, Dan] Fegan.

"It's very unique, especially if it's driven by a quote source that happens to be Dwight's agent," Stern told USA TODAY Sports in a telephone interview. " 'A source in the meeting.' Oh, OK, who might that be?"

Does he think it could be new Magic general manager Rob Hennigan?

"No, I don't, and I don't think it's [Magic CEO] Alex Martins either," Stern said.
Anonymous sourcing is very much part of the game now and Howard's situation isn't anything new. But the fact it's dragged on for so long makes it feel worse.
Why do people leak things? It's all part of the strategy. Which is what you need to ask yourself each time you see an anonymously sourced quote or report: Who benefits the most from this? And if you do, you'll probably figure out where it came from.
What's the information that came out after Wednesay's meeting? That Dwight Howard told Magic GM Rob Hennigan that he most definitely wants out of Orlando. Translation: Hey other teams, start calling the Magic again to make trade offers, please.
Though Stern called out Howard's agent, he did acknowledge that this drama is simply part of the game now. And in some ways, good for it.
"To me, it is the soap opera our fans turn in for - the drama on the court and the drama off the court," Stern said. "When we cease to have a story popping up, we probably won't exist.
"I think what it is, is that that's the way we are. That's the way it has been in baseball and the NFL and hockey and basketball. And frankly, it engages our fans, it engages our reporters, it engages our bloggers. It makes people happy, mad, sad. It's just the life in sports."