Dwight Howard's agent admits to leak about meeting with Magic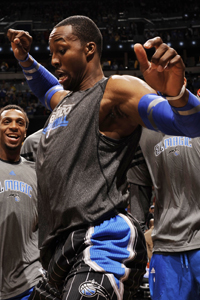 This is the media tango!
(Getty Images)
You may remember reports of Dwight Howard meeting with Magic executives last week. And you may remember David Stern lighting up Howard's agent Dan Fegan for leaking the information.
Well, here's a weird one.
Fegan admitted to it.
From ESPN.com:
"On the morning prior to Wednesday's supposedly confidential meeting between Dwight Howard and Rob Hennigan, there were media reports stating a meeting was taking place later that same day," wrote agent Dan Fegan of LaGardere Unlimited in an email. "Prior to the actual meeting, Dwight's business manager and I met with Rob, reminded him that we had not requested the meeting, had been reluctant to take it and were concerned that the Magic had leaked that a meeting was taking place.

"Both during and after the meeting, we continued to get communications from the media telling us that they had confirmation that the meeting was occurring and/or had taken place. After the meeting, some media requested comments on information they allegedly already had on what had taken place in the meeting. I want to stress that none of the information the reporters had about the meeting at this point came from us.

"After receiving these media inquiries, I called Rob and left several messages expressing concern that what had occurred in the meeting was not going to be accurately reported -- as had happened on previous occasions -- and that we were going to respond to the media inquiries to make sure that reports were accurate. To a limited extent, that is what we did."
via Dwight Howard's agent, Dan Fegan, confirms David Stern's accusation - ESPN Los Angeles.
Oh, you just wanted to set the record straight! That makes sense. And I mean, when has an agent ever twisted information through the media in order to advance an agenda?
Pardon me, I'm getting dizzy from all this eye-rolling.
Look, both the Magic and Howard's camp (and the Nets, but let's not go down that road) are using the media. But the Magic have been understated, reserved, careful with it, since new GM Rob Hennigan took over. The amount of information that has spewed forth from the Magic Kingdom has gone substantially downhill. They haven't gone quiet, but they've turned on the caterpillar drive, to to speak.
But the Howard camp? They're like Brick in "Anchor Man." Loud noises! They have difficulty in controlling the volume of their own voice. They keep shouting for no apparent reason. Leakin the meeting itself wasn't an issue.
Leaking that the intent of the meeting was for Orlando to try and convince Howard to stay, leaking that Howard was adamant about leaving, and leaking that Howard questioned his team on their business of trading him which they neither have to nor want to? That's caused a bit of a ruckus. The best thing for all parties is radio silence. But somehow I doubt we're going to hear that.
Either way, it's a fascinating insight into the inner working of how these reports are generated, and perhaps a warning that if it seems like all the information coming out is one-sided, it probably is.