Kobe Bryant clarifies and says the Dream Team was better than 2012 squad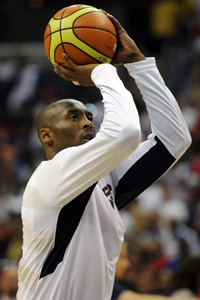 Kobe Bryant doesn't have a problem saying the Dream Team was better.
(Getty Images)
Kobe Bryant concedes the Dream Team was better.
But he's not conceding his original point: that the 2012 squad could beat them.
After Kobe Bryant said the 2012 Olympic team could beat the Dream Team, everyone pretty much flipped. Dream Teamers like Magic Johnson and Scottie Pippen claimed they'd win by 20 or more. The consensus was that Kobe and company better keep dreaming. Because they weren't as good as the Dream Team.
And here's a funny thing: Kobe agrees with that. In comments to the L.A. Times, Bryant clarified his original point.
"I didn't say we were a better team," Bryant said. "But if you think we can't beat that team one time? Like I'm going to say no, that we'd never beat them.
"They are a better team. The question was 'Can we beat them?' Yes we can. Of course we can."
The whole debate was one of those things that fans and media basically latched on to and turned into their own thing. Because Kobe's original comments were essentially exactly that. And so were LeBron's. But we all write headlines like, "LeBron says the 2012 team could beat the Dream Team" and that essentially equates to us all interpreting it as he's saying they're better.
But here was Kobe's original answer: "It'd be a tough one, but I think we'd pull it out," he said. Not exactly him trumpeting the 2012 squad as the best team in history, like some have acted.
And this isn't even the first time Bryant clarified. Captured by CBSSports.com's Ben Golliver, Kobe said this during training camp in Las Vegas:
"The fact is, they have [Patrick] Ewing and [David] Robinson and those big guys, it's tough. If you're asking me, 'Can you beat them one game?' Hell yeah, we can beat them in one game. You didn't ask me if we could beat them in a 7-game series. In one game, we can beat them. No question about it."
There's a big difference in saying a team is better than saying someone could win a game. Or even win four games in seven tries. Because the best team doesn't always win a game, or even a series. Everybody knows that. Pick a sport, and there's an example that proves it.
And that was all Kobe, and LeBron, were trying to say all along. Plus, like Kobe said, what do you expect him to answer? That the Dream Team would whip their butts? This isn't Kobe Bean we're talking about here.
Kobe's re-clarification isn't going to put this to bed. But hopefully it at least calms down this nonsense that has carried on for almost a month now. The Dream Team was better. But the 2012 team is very, very, very good.
Now can we all move on?