Preview: Team USA eyes third group win versus Nigeria on Thursday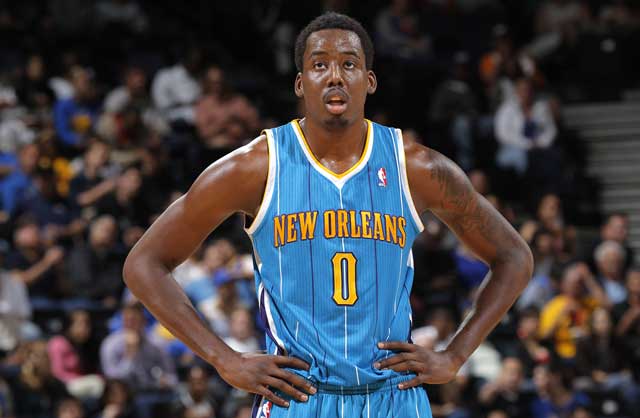 Al-Farouq Aminu and Nigeria stand between the USA and a 3-0 record in London Olympics group play.
(Getty Images)
The United States opened its defense of its 2008 Olympics Gold Medal by blowing out France on Sunday. Kevin Durant led the way with 22 points. They then trounced Tunisia on Tuesday, with Anthony Davis putting on a dunk clinic.
USA (2-0) continues play in Group A by taking on Nigeria (1-1) on Thursday at 5:15 p.m. ET.
How did they get here?
Nigeria was the last team to qualify for the 2012 London Olympics, beating the Dominican Republic in the third place game of a July qualifying tournament to secure its spot. Nigeria opened its Olympics by beating Tunisia 60-56 before falling to Lithuania 72-53.
Do they have a history of winning?
Not particularly. This is Nigeria's first Olympics and the nation has never won FIBA's Africa Championship in 14 appearances. Currently, Nigeria is ranked No. 21 in the world by FIBA, putting them between Iran and Venezuela.
Who are their best players?
Unlike Tunisia, who didn't have a single player in the NBA or on a major European team, Nigeria has a number of names that should be familiar to an NBA audience.
They are led by Al-Farouq Aminu, a 2010 lottery pick who was part of the package sent by the Los Angeles Clippers to the New Orleans Hornets in the blockbuster trade for All-Star guard Chris Paul. Aminu, 21, holds career averages of 5.8 points and 3.9 rebounds per game, and he started 21 games for the Hornets last season. He's got potential but isn't yet a game-changing player.
Al-Farouq, a 6-foot-9 small forward who spent two seasons at Wake Forest, is joined on the Nigerian team by his older brother, Alade. Alade Aminu, a 6-foot-10 power forward, spent some time in the D-League and is currently playing professionally in France.
Nigeria's other big name is Ike Diogu, a 28-year-old forward who was a lottery pick in the 2005 NBA Draft. Diogu has bounced around the NBA during his 6-year career, spending time wtih the Golden State Warriors, Indiana Pacers, Portland Trail Blazers, Sacramento Kings, Los Angeles Clippers and San Antonio Spurs. Diogu missed the entire 2009-10 season following knee surgery and hasn't really been the same player since. He holds career averages of 6.0 points and 3.1 rebounds per game.
What do the match-ups look like?
It ain't pretty.
Nigeria gives most of its minutes to the Aminus, Diogu and forward Derrick Obasohan (who has played professionally in Spain) and guard Tony Skinn (who has played professionally in Israel). They will be out-classed at all five positions and have used an 8-man rotation, whereas the USA can go 12-deep if needed. The Americans hold monstrous advantages at every position.
USA will likely use LeBron James and Kevin Durant to pressure Al-Farouq Aminu on the perimeter, as he isn't known for his handle. Diogu is an undersized forward who will be light work for Tyson Chandler, Kevin Love or James, whoever draws the assignment down low. In his heyday, Diogu, the 2005 Pac-10 Player of the Year, could generate some offense in one-on-one situations but his life will be hard against a big, fast, and smart USA defense that can devote as much attention to guarding him as necessary.
One thing to watch on match-ups in this game is whether Coach Mike Krzyzewski makes any adjustment to his lineups or rotations. Against Tunisia, upset by the lack of production and intensity from his starters, Krzyzewski subbed in five reserves at once and then later used that lineup to start the second half. The bench unit -- Deron Williams, Russell Westbrook, Andre Iguodala, Carmelo Anthony and Kevin Love -- keyed USA's win over Tunisia and could easily handle Nigeria by themselves. Will they get more time, will we see some juggling or will the starters bounce back after enjoying an off day on Wednesday?
Does Nigeria have a chance against the United States?
Nope. There's just not enough firepower.
Look at the raw numbers: Nigeria is averaging 56.5 points per game so far while the United States is putting up 104 points per game. Remember, the USA hasn't even looked all that sharp, shot the 3-ball that well, or been thoroughly tested yet. There's much more offense left in the tank and they're already putting up almost double what Nigeria has managed.
The Nigerians entered the Olympics as the second longest shot to win gold, according to the oddsmakers, at 500-1. (Only Tunisia was a longer shot at 1,000-1). Those odds have held pretty well. Given that Nigeria barely squeaked by Tunisia and the United States clobbered that same foe two days later, another big-time blowout is the expectation.
Perhaps the most interesting question: Will one of the Nigerians ask for Kobe Bryant's autograph like Tunisian big man Mohamed Hadidane did following Tuesday night's game?