Preview: Lithuania is no total walkover for Team USA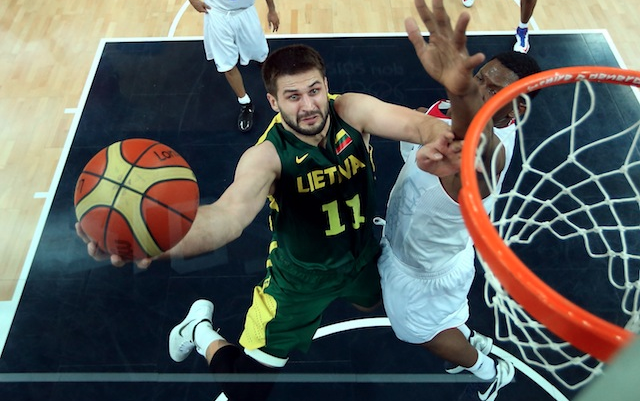 Linas Kleiza is going to need a REALLY big game for Lithuania.
(Getty Images)
Three down for the United States, two to go before the real games start. A blowout of France, a destruction of Tunisia and then the 83-point complete obliteration of Nigeria. But standing in the way next for Team USA is a Lithuania squad that's no pushover.
USA (3-0) continues play in Group A by taking on Lithuania (1-2) on Saturday at 9:30 a.m. ET.
How did they get here?
Lithuania qualified for the 2012 Olympics by placing in the top three of the 2012 FIBA World Qualifying tournament. They weren't all that impressive in it, losing to Nigeria in group play, but rebounding to advance to the finals.
In London, they've started a disappointing 1-2, losing by 23 to Argentina and by 12 to France while beating Nigeria 72-53. They're still well positioned to advance to the knockout round, but it's likely they'll place fourth in Group A, meaning a matchup with Spain first.
Do they have a history of winning?
The Lithuanians have some of the best international basketball history of all. They've won three bronze medals (1992, 1996, 2000) and have appeared in six Olympic games. They took bronze in the 2010 World Championships in Turkey and three gold medals at Eurobasket.
Who are their best players?
Their best player is Jonas Valanciunas, a top five pick by the Raptors in the 2011 NBA draft. Though he's been mildly disappointing thus far in the tournament.
Linas Kleiza has led them in scoring all three games thus far, averaging 16.6 points per game in the tournament. Martynas Pocius, of Duke basketball fame, will take on his former college coach as one of Lithuania's top scorers.
For a country used to producing NBA talent, there really isn't much on this roster. Valanciunas and Kleiza, who both play for the Raptors, are the only two players on their team currently under contract in the NBA. Darius Songaila spent a lot of time in the NBA, but he's playing overseas now.
And there's Sarunas Jasikevicius, who is a very good 3-point shooter. He backs up Mantas Kalnietas, a quality playmaking point guard.
What do the match-ups look like?
There's really nothing the Lithuanians can throw at the U.S. that should cause problems. Unless Valanciunas really comes out of his shell and plays big, Team USA has incredible advantages across the board.
Lithuania has a little size inside, but not enough to really cause problems for the Americans. Where Lithuania has the opportunity to do their most damage is with ball movement and great shooting. This is a team with excellent chemistry and they share the ball in the most pure international style of basketball.
They have some shooters and if they can get hot from that 3-point line, they could keep moderately close. But that's assuming the Americans don't go on another shooting spree knocking down 29 3-pointers. Because at that point, nobody is matching that.
Does Lithuania have a chance against the United States?
I could be polite and say of course there's a chance. But in reality, there's no way the U.S. loses this game. Lithuania, while a solid team, just doesn't have the horses to compete for 40 minutes.
They could keep it around 10 or 15 though. The current spread on the game is at 35 points, but if Lithuania plays well, the final margin could be around 20. You can't expect the U.S. to hit like they did against Nigeria, but at the same time, it's clear Team USA is really finding a rhythm.
I suppose if Team USA played as horrible as possible and Lithuania got hot from outside, it might be interesting in the fourth quarter. But there's just not enough firepower on the Lithuanian roster to sustain that and win.