Carmelo Anthony blames Linsanity for critics calling him 'selfish'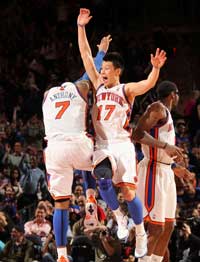 Carmelo Anthony and Jeremy Lin, during happier times.
(Getty Images)
What's the best way to fight off charges that you're selfish? Scapegoat a former teammate, of course.
For years, New York Knicks forward Carmelo Anthony has heard criticism that he is a ball-stopper who prefers me-first volume shooting (19.3 attempts per game over his career) in isolation to team-first passing (3.1 assists per game for his career).
And yet when asked by USA Today at the London Olympics this week about the age-old charge that he is a "selfish" player, Anthony asserted that the talk only started after the meteoiric rise of Jeremy Lin.
"Let's be frank about it," he said. "When it comes to the Knicks, we're talking about one particular point in time. We're talking about the whole 'Linsanity' thing. That's when it started. That's when it started to escalate as far as people saying I was selfish."

"Lin came and we started winning games and then we started losing games, and they could only point to one thing, which is me, the leader of the team," Anthony said. "They're not going to point to Amar'e. They're not going to point to (guard) Iman Shumpert. They're going to point to me. I accept that. It doesn't bother me."
The losing he's referring to resulted in former Knicks coach Mike D'Antoni abruptly walking off the job, amidst talk that he could not incorporate Anthony into his high-octane, ball-moving offense. Then, this summer, the Knicks opted not to match a 3-year offer sheet to Lin, allowing him to leave for the Houston Rockets in restricted free agency.
Before the Knicks officially announced they were not matching the offer sheet, Anthony weighed in, calling it a "ridiculous" contract, according to the Los Angeles Times. That was a clear break of protocol in the NBA, where you rarely hear one player, let alone a teammate of a global sensation, talk about another player's contract or worth.
When all is said and done, this almost certainly winds up as a "You made your bed, now lay in it" situation for Anthony. The Knicks won just one game in the playoffs without Lin and enter next season with a roster that's a virtual lock to make the postseason. However, the Knicks are still in that middle zone where they're more likely to lose a playoff series than win one, and that's underachieving now matter how you look at it when you consider the team's massive payroll and the presence of big-name players, none bigger than Anthony.
Anthony was called selfish before Linsanity, he was called selfish during Linsanity and he will be called selfish after Linsanity. That he would single out that stretch of his career to push back against the label is a telling peek behind the curtain of New York's locker room last season.
The only way Anthony can start to shake the "selfish" tag is to advance into the postseason. He could also try averaging 4 assists per game for a season for the first time in his career, but don't hold your breath on that one.