Preview: USA Basketball opens London Olympics knockout round vs. Australia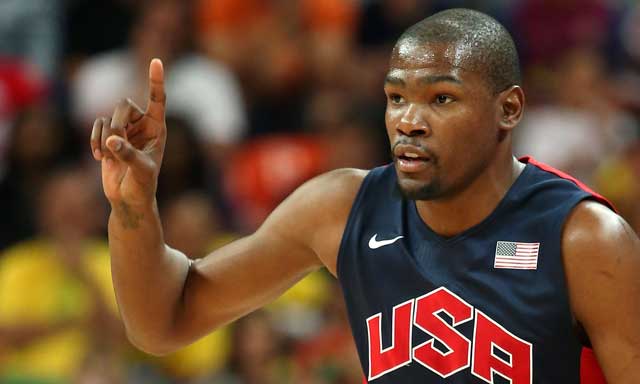 Three more games and Kevin Durant and the USA can officially claim the No. 1 spot in the world again.
(Getty Images)
The United States cleared the group stage of the 2012 London Olympics as the only undefeated team in the field, going a perfect 5-0 against France, Tunisia, Nigeria, Lithuania and Argentina.
USA, the No. 1 seed in Group A, now enters the second phase of the tournament, an 8-team knockout round. They open against Australia, the No. 4 seed in Group B on Wednesday at 5:15 p.m. ET.
How did they get here?
Australia went 3-2 in Group B play, opening with losses to Brazil and Spain and then rebounding to defeat China and Great Britain by double digits and then sneaking past Russia on a buzzer-beating 3-pointer by Patty Mills.
Do they have a history of winning?
Not really. The Australians are a regular qualifier for the Olympics thanks to a weak Oceania regional group but have never medaled in 13 Olympics appearances and 10 World Championships appearances. USA eliminated Australia in the quarterfinals of the 2008 Beijing Olympics. Prior to that, Australia finished 9th in the 2004 Olympics and lost in the third place game of the 2000 Sydney Olympics as the host country.
Who are their best players?
Australia's best players are center Andrew Bogut, not on the roster due to injury, and Kyrie Irving, who was born in Melbourne before moving to the USA at a young age. Irving, one of the NBA's brightest young stars, nearly decided to play for his birth country before opting to join USA Basketball. So, yeah, neither one of those guys counts here.
The Australians have been led in London by sparkplug point guard Patty Mills, who plays for the San Antonio Spurs after being a 2009 second-round pick of the Portland Trail Blazers following a successful college career at St. Mary's. Mills is averaging 20.2 points and 2.2 assists over five games in London and has provided some clutch play along the way, not to mention a 39-point effort against Great Britain.
Supporting Mills wil be forward David Andersen, a face-up big man who enjoyed a brief NBA career with the Houston Rockets, Toronto Raptors and New Orleans Hornets. He spent last season playing in Italy and is averaging 12.2 points and 6.4 rebounds per game in London, although he's not a real physical force. Wing Joe Ingles, who plays for Barcelona in Spain, is the third option, averaging 14.2 points and 4.4 rebounds in group play.
What do the match-ups look like?
To put it simply: There isn't a single Australian who could come close to making USA's roster.
The United States has made a huge deal throughout its pre-Olympics and Olympics play of "cutting off the head of the snake." In other words, stopping the opposition's point guard, particularly if he's a key member of the team. Mills sometimes struggles under ball pressure and is not an elite play-maker for others, preferring to create offense for himself. Expect the USA to pressure him relentlessly with Chris Paul, Deron Williams and Russell Westbrook, in hopes of taking Australia out of its offense. The Australians really don't have the interior personnel to take advantage of the USA's relatively small frontline and they certainly don't have the athleticism and speed to match up on the wings.
One player no one has an answer for: Kevin Durant, who is averaging 18.6 points, 5.6 rebounds and 3.8 assists per game while shooting a ridiculous 60.6 percent from the international 3-point line. My oh my.
Does Australia have a chance against the United States?
No.
This should be another blowout for Team USA, who made light work of four of their five group opponents. The Australians are the weakest team left in the field and the fact that the United States gets to open the knockout round against them is a real blessing.
Indeed, the next week couldn't set up more favorably for USA, as three of their top challengers -- Russia, Spain and France -- are all on the other side of the bracket. The Americans will only have to face one of those teams and won't see them until the gold medal game. In the meantime, they'll get to enjoy a warm-up against Australia and then face the winner of Argentina vs. Brazil. That figures to be Argentina, a talented team but one the USA blew out during the run-up to the Olympics and again in their fifth and final group game on Monday.