Roy Hibbert schedules visit for a dying fan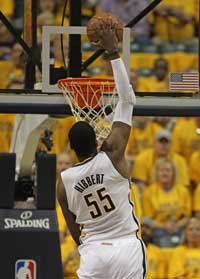 Roy Hibbert is going to visit a special fan.
(Getty Images)
This is the type of story that's heartwarming while even more heartbreaking.
12-year-old Pacers fan Lee Eddins wanted to watch his favorite player Roy Hibbert playing the Kings in Sacramento when the Pacers visited in November. Except Lee, who was diagnosed with stage four leukemia six months ago, isn't expected to live long enough to see it.
So Hibbert is doing a very cool thing. He's going to see Lee. Via the Indy Star:
"Once I heard he had a dying wish, I knew I had to do something more than send him presents and Skype with him on the computer," Hibbert said.

"I'm usually uncomfortable going to hospitals when the Pacers do events because it's pretty tough to see kids in that situation. Once I heard about (Lee), I realized I had to get over it and do it for him."
When Lee was diagnosed, it became clear that chemo therapy wouldn't be enough. He would need a bone marrow transplant. But African-Americans have only a 17 percent chance to find a match compared to 70 percent for Caucasians, according to the paper.
There was a bone marrow drive held in Sacramento, which just includes a little swap of the inside of the cheek to see if there's a match. He had a transplant in June. And it didn't take.
A second prodecure was planned but Lee came down with a lung infection. Still, the little guy is fighting away, doing his best. Hibbert's visit is at least something, a little inspiration to keep going.
Hibbert knows his visit with Lee won't save the boy's life. He simply wants to enjoy the time they will share and try to lift Lee's spirits as much as possible.

Hibbert also plans to have his mouth swabbed to see if he's a bone marrow match.

"I've had two family members die of cancer," Hibbert said. "It's tough. I seriously don't know what I'm going to say to Lee. I'm just going to be myself. If I can get a smile out of him that will be great."
Why Hibbert though? Why would a kid from California love an Indiana Pacer?
"Lee's followed Roy since he was back at Georgetown," Eddins legal guardian Victor Baker told the paper. "Lee likes players from all over the NBA, but there's something about Roy that he liked. I didn't even know he had heard of Roy Hibbert before."
Looks like Lee made a pretty good choice.