Stephen Curry advises Warriors to offer him a contract extension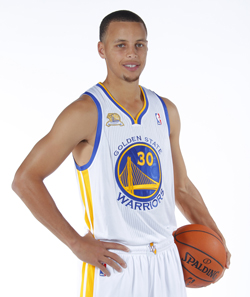 Stephen Curry thinks the Warriors should give him an extension.
(Getty Images)
You don't hear this type of honesty every day.
Stephen Curry wasn't afraid to come out and speak his mind: the Golden State Warriors should reward him with a contract extension or risk paying him a lot more down the road.
NBA.com has Curry's full argument, in which he notes that he's in good health after undergoing multiple procedures on a troublesome right ankle over the last two years.
"I've talked to Bob," Curry said after the Wednesday burn that lasted about 90 minutes, in addition to his therapy. "He's expressed that they want me as a part of the future. Obviously it's a business decision, an investment, and they have to protect themselves as well. I don't know what that'll mean and exactly what they'll offer. But hopefully they see how hard I've been working in the summer to get back and that I have a different optimism than I've had going into each year. I'm ready to go.

"They've seen me work out a little bit now. Knowing that we went into the ankle in April and saw there was no structural damage, no red flags that say, 'Hey, he's not going to be the same player ever again' -- all those things kind of add up to me being a good investment piece for the future."

"You're playing chess with it," Curry said. "If they were to take that approach to wait and I've had a great season, hopefully it would spark some interest across the league for the future and the price would drive up. If I were the Warriors, I'd offer a reasonable amount and sign me up now."
Curry, 24, was a lottery pick in the 2009 NBA Draft. Everything was going fairly smoothly during the first two seasons of his career, as his sweet shooting stroke and A+ attitude made him look like a potential future franchise point guard. Then the ankle problems started to add up, costing him 40 games during the lockout-shortened 66-game season last year. The Warriors missed the playoffs in all three of Curry's seasons and will need big, reliable production from him if they are to visit the postseason this year after they traded away starting two guard Monta Ellis at last year's deadline.
Ankle injury or not, Curry is sitting pretty when it comes to the size of his next pay day. Only Blake Griffin and James Harden can really lay claim to having considerably better careers so far than Curry and both will be max guys. Indeed, the Warriors guard, who was taken No. 7, finds himself having already outperformed the No. 2 pick (Hasheem Thabeet) and the No. 6 pick (Jonny Flynn). He's also been more consistent than the No. 4 pick (Tyreke Evans) and has played much more than the No. 5 pick (Ricky Rubio, who spent two additional seasons in Spain).
Curry, then, will likely fall into the Draft's second tier of players along with the likes of Evans, Brandon Jennings and Ty Lawson. That should likely put him on track for an 8-figure plus per year pay day.
Guys in that range force teams to make a tough choice: offer an extension early or allow the player to hit restricted free agency. The Denver Nuggets, for example, opted to re-sign Danilo Gallinari to a 4-year, $42 million extension, while the Portland Trail Blazers allowed forward Nicolas Batum to go to restricted free agency, where he eventually received a 4-year offer worth $46.5 million. Gallinari is the superior player of the two, without question, and the Blazers are stuck paying the premium for their procrastination.
Curry has been productive -- holding career averages of 17.5 points, 5.8 assists, 4.1 rebounds and 1.7 steals -- and plays a premier position, so there is significant motivation for Golden State to get a deal done. Warriors ownership has shown its commitment to spending to build a roster and has relatively clean books starting in the 2014-15 season, plus they've already committed to one major piece (David Lee) through 2015-16. All of those signs point to an extension making sense.
The wild card is the ankle and that's surely the reason Curry feels compelled to publicly lobby for a deal now. Having the certainty that comes with a long-term deal can take a lot of stress off for a player in his position, as he knows he's always one bad ankle roll away from costing himself millions of dollars on the free agent market.
This whole thing boils down to whether the Warriors believe its worth the risk of potentially paying extra next summer to see how Curry holds up this season. While they know the condition of his ankle better than anyone, they also can't avoid thinking about just how badly they need him to work out as a long-term solution.