NBA Offseason Report: Indiana Pacers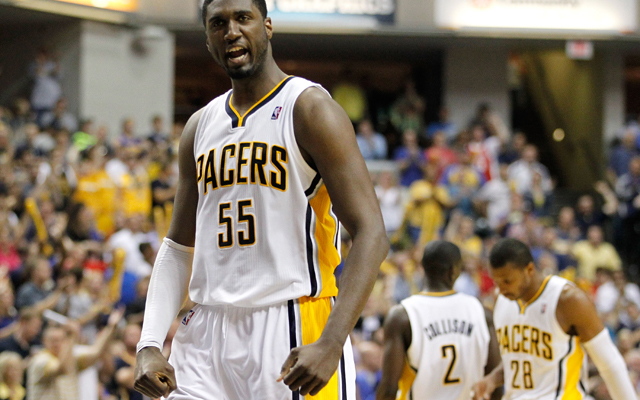 The Pacers kept Hibbert this summer.
(Getty Images)
Over the next month, CBSSports.com's Eye On Basketball will take a team-by-team look at the 2012 NBA offseason. Next up: the Indiana Pacers. You can find our offseason reports here.
I. How they finished 2012: It is not a stretch to say the Indiana Pacers were the second best team in the Eastern Conference playoffs last season.
Yes, the Celtics finished in Game 7 of the ECF, but if we're evaluating the roads they took in the playoffs and the way they played, the Pacers showed a tremendous amount of versatility and toughness. They match up incredibly well with the Heat just based off the strength of their overall roster.

It still wasn't enough.

The same things that seem to always be true about Indiana were true again. Not enough star power, not enough firepower, not enough tactical adjustments. But none of that robs them of the fact that they had a great season, taking a huge step forward and becoming a legitimate contender for the Eastern Conference Title... even if there's a massive gap between the Heat and Indiana.

II. Needs entering the offseason: Roy Hibbert was the big question; a restricted free agent seven-foot center on the market was always going to draw huge interest. Hibbert was an All-Star last year, but throughout the year, there were questions about what Indiana would do to keep him, how much they were committed to him. They did reportedly extend an extension offer which he declined.

From there, they needed to get more efficient on offense, and improve their backup bigs. Lou Amundson was serving as defacto backup center last season, and that wasn't going to cut it.

The biggest thing they needed was to figure out what was going on with Larry Bird as President of Basketball Operations.

III. The Draft: When the Pacers took Miles Plumlee, I was stunned, only in that it was so completely unsurprising. There is no one more fitted to the traditional Pacers model than Plumlee.

Plumlee might surprise, he's got the work ethic. But you wonder if more athletic options wouldn't have given them more of a boost. It was not deemed a winning draft by many.

IV. Free Agency: Bird wound up walking away, finally, after years of talking about it, and Donnie Walsh returned to the reins. Walsh had left several years ago after building a championship contender in Indiana, and one of the reasons was that he was looking forward to not having the financial restraints of a small market. So we'll see how he does with a cap-strapped team with a ceiling who can't spend into the luxury tax.

The Pacers immediately tried to catch the Pacers in a moment of indecision, reaching an agreement with Hibbert on a four-year max contract. The Pacers made it clear within a few days that they intended to match, however, and eventually signed Hibbert to their own offer sheet, keeping the Blazers' cap room intact.

That looked like it was going to be it for the Pacers, a quiet offseason spent adding a few tweaks with no significant moves.

And then they started one of their two best point guards, out of the blue. The Pacers sent Darren Collison to Dallas in a sign-and-trade for Ian Mahinmi, giving them a legit backup center, and two guys with true height to play at the 5. Collison had been the starting center until late in the year when George Hill started to take over. When the Pacers signed Hill to a five-year, $40 million deal, the writing should have been on the wall regarding Collison.

Surprisingly, Collison and Hill never were able to co-exist on the floor, and the result was a competition between the two instead of a synergy.

To replace Collison at back-up point guard, the Pacers landed a bargain, signing D.J. Augustin to a small deal. Augustin, burdened with the stink of the Bobcats, came in below value. He's a versatile scorer who can run the offense and is a willing defender. He can operate as a spot-up shooter and manage the ball. It was a steal, in all honesty.

The Pacers also landed Gerald Green, who went from NBA Dunk Contest trivia icon to legitimate forward last season with the Nets.

V. Overall grade and accomplishments: B

Trading Collison was daring, trading him for Mahinmi, never considered a starter even more so. But Mahinmi gives them what they need most, a 6-11 athlete who they can throw at the Heat to deter them at the rim. It solidifies their rotation and gets rid of a positional redundancy with Hill and Collison. You can easily argue that Collison is the better player than Hill, but that Hill fit their needs significantly more.

Signing Augustin and Green helps their bench and makes up for the Plumlee draft. The Pacers managed to get deeper, simplify their roster, and save themselves some long-term money. Not bad. Not great. But not bad.