Carmelo Anthony says the Nets aren't a Knicks rival, not yet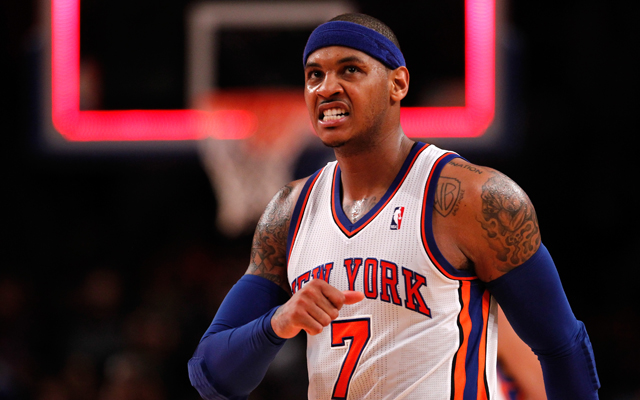 Melo's not sneering at the Nets. Not yet.
(Getty Images)
We've talked a lot about the Nets and Knicks rivarly, whether it's real, whether it has a chance, what it means. We've talked to experts from New York and Brooklyn on it. Now we've got Carmelo Anthony's feelings on the subject. From Newsday:
What the Knicks hope will be a run into June officially begins Nov. 1 at Barclays Center against the Nets. Just dont call it a rivalry with their crosstown opponent. Not at the moment, anyway.

"Theres no rivalry between us and Brooklyn right now," Anthony said. "It starts on that first game. Well see what happens with that first game. But as of right now, we are focused on ourselves. We are not really focused on nobody else."
via Carmelo Anthony excited about Amare Stoudemires new low-post game.
Let's theorize some events that would lead to the Knicks and Nets having a rivalry.
1. The obvious idea is Reggie Evans pulling out some of his tricks on Marcus Camby. That's not going to go well.
2. The Nets introduce their starting power forward, Fire Extinguisher.
3. Joe Johnson and Carmelo Anthony get caught up in whatever the ISO version of a "walk-off" is.
4. Amar'e Stoudemire and Brook Lopez become tangled trying to avoid a rebound, sparking a brutal slap fight.
5. J.R. Smith says he was into the Black Keys way before anyone in Williamsburg.
6. Spike Lee's Brooklyn and Knicks' cultural identities split into two and then face off in a "Spy vs. Spy"-type showdown.
7. The Cold War is reinitiated. In Soviet Russia, rivalry starts you!
8. James Dolan becomes enraged when he mistakes Billy King's reference to Avery Johnson as "The Little General" as a slight against him.
9. Gerald Wallace and Stoudemire get into a heated argument over who has the worse injury background.
10. Something with the Kardashians, I'm not sure what but it ends with La La trying to stab someone with a hair pin.