Shaq says Howard needs to win three rings to 'get people's respect'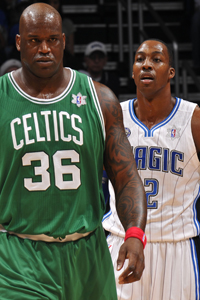 Shaq brushes off comparisons regarding Howard.
(Getty Images)
Shaquille O'Neal never has liked Dwight Howard. O'Neal, by all accounts, likes to think of himself as bigger than the game, a literal and figurative giant in the NBA's culture. Howard, in adopting the nickname Superman, one of about a billion O'Neal chose for himself, stepped on Shaq's toes, or tugged on his cape, whatever. O'Neal doesn't like the comparisons between the two, simply based on his own resume when compared to Howard's.
And those feelings have not changed, apparently. O'Neal talked to the New Orleans Times-Picayune about a variety of things, including how Howard is pretty much nothing to him.
What was your reaction to Dwight Howard being traded to the Lakers?

"I don't have a reaction. You have to care to have a reaction. I've got businesses to run. I always tell people that in order to step in my shoes you have big shoes to fill. For him, he's going to have to at least win three to get people's respect."
via Shaq unplugged: Q&A with former LSU, NBA star Shaquille O'Neal | NOLA.com.
Three rings, just to get people's respect? Being the best center in the league isn't enough? Dragging the Magic to the Finals in 2009 did nothing for him? Being the best all-around defensive player in the league isn't enough?
What about Karl Malone? Or Charles Barkley? Or Steve Nash?
The reaction is probably about the relative standards for the Lakers, and in that regards, O'Neal is right. And that says a lot about what Howard faces in terms of expectations in L.A. It's a new level of pressure.
Also, O'Neal is a cranky old man who doesn't like people replicating, duplicating, or being compared to him. It's not fair to Howard, or Shaq. It also won't stop.