Kevin Garnett says again that he's going to retire a Celtic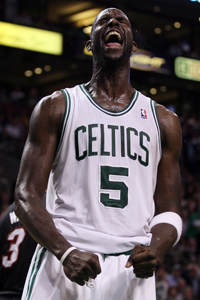 Kevin Garnett says he's going out a Celtic.
(Getty Images)
File this one under "things that wouldn't be news if it weren't mid-September." Kevin Garnett signed a three-year deal in July at age 36. He'll be 39 at the end of the deal, if he were to play through it, and had already considered hanging it up. This is his last deal. He's pretty much made that clear.
Yet it's news that he confirmed it.
Garnett's on a money-making shoe tour in China, and, as reported by Hupu from an event, via HoopsHype:
Kevin Garnett: I will retire as a Celtic for sure.
So if the Celtics were to get desperate and faced with a sweetheart deal for him, they wouldn't trade him? Or he'd re-sign with Boston to retire? In that situation, isn't it a pretty big slap in the face of the Timberwolves? This won't happen, of course, so it's moot. The Celtics made the commitment to Garnett; they're going to ride it out.
Despite spending twice as much time in Minnesota, Garnett self-identifies as a Celtic and will go out that way, another in a long line of great players to wear the green and white.