Reports: LeBron James to leave CAA, turn over representation to friend Rich Paul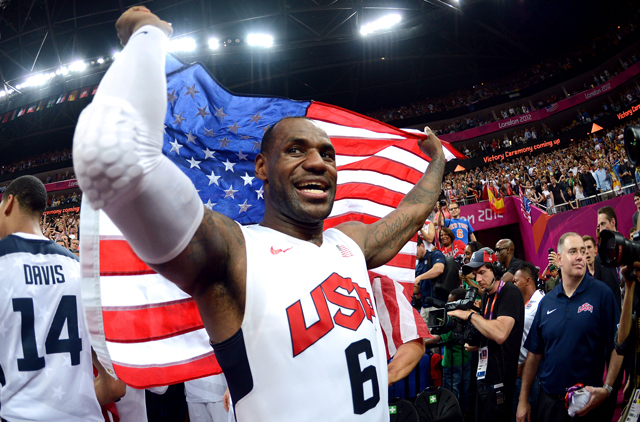 After solidifying his standing as the world's best this year, LeBron James is reportedly striking out on his own.
(Getty Images)
With "The Decision" behind him, a championship ring on his finger, a second gold medal around his neck and three NBA MVP awards to his name, Miami Heat forward LeBron James is reportedly striking out on his own when it comes to representation.
The Sports Business Journal reports that James and childhood friend Rich Paul will leave Hollywood talent agency Creative Artists Agency, with Paul taking over James' representation from CAA agent Leon Rose. Paul worked as an agent for CAA and his clients included Cleveland Cavaliers forward Tristan Thompson and Charlotte Bobcats rookie forward Michael Kidd-Gilchrist, among others.
ESPN.com has confirmed the switch and reports that there are "no hard feelings" between James and Rose. Yahoo Sports reports that Paul will operate under the name "Klutch Sports Group."
James, 27, has already earned more than $92 million in NBA salary during his 9-year NBA career. He signed a 6-year deal reportedly worth more than $109 million during the summer of 2010, although he has players options for the 2014-15 and 2015-16 seasons.
Forbes ranked James as the No. 2 highest earning endorser in the NBA, trailing only Los Angeles Lakers guard Kobe Bryant back in January 2012. He reportedly pulls in $33 milllion per year in endorsements, thanks to deals with the likes of Nike, Sprite, State Farm Insurance and McDonald's. In 2011, James struck a global marketing deal with Fenway Sports Group, becoming a minority owner in Liverpool FC in the process.
In May 2005, James fired his agent, Aaron Goodwin, and formed marketing agency LRMR with Maverick Carter, Randy Mihms and Paul, all friends from his childhood in Akron, Ohio. Shortly thereafter, James joined CAA, where he was represented by Rose. Dwyane Wade and Chris Bosh were also represented by CAA when the trio famously joined forces as the Heat's "Big 3" during the summer of 2010. Wade and Bosh are still represented by CAA agent Henry Thomas, according to the Sun-Sentinel.